First batch of Hajj pilgrims reaches Jeddah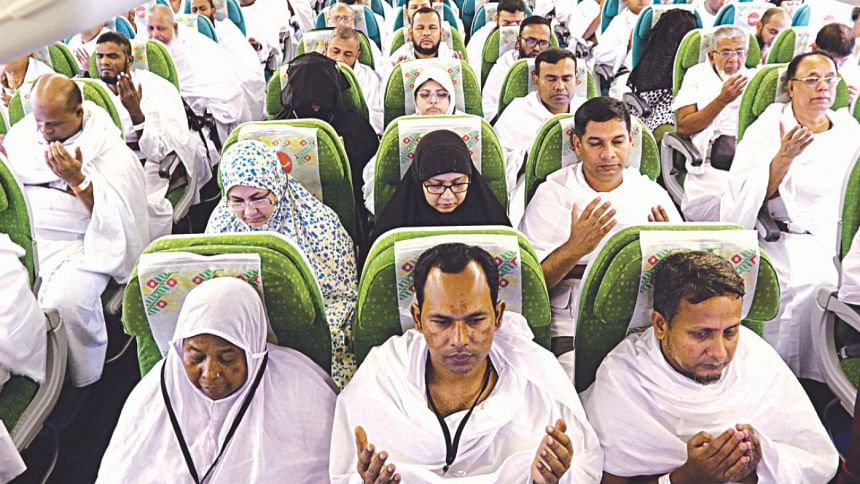 The first hajj flight of Biman Bangladesh Airlines carrying 418 pilgrims took off from Hazrat Shahjalal International Airport yesterday morning.
Civil Aviation and Tourism Minister Rashed Khan Menon, Religious Affairs Minister Motiur Rahman and top officials of the two ministries saw the pilgrims off at the airport.
The Biman flight which left Dhaka at 7:55am reached an airport in Jeddah around 11:13am (local time), said Biman General Manager (public relations) Shakil Meraz.
Meanwhile, two more hajj flights left the Shahjalal airport yesterday.
The 2nd and 3rd flights, carrying 419 pilgrims each, left for Saudi Arabia at 11:55am and 7:55pm.
Prime Minister Sheikh Hasina inaugurated the Hajj Programme-2017 at the Hajj Camp in the city's Ashkona on Saturday.
A total of 177 flights will carry some 127,198 pilgrims till August 26.
The return flight will start on September 6 and continue till October 5.
Biman Bangladesh Airlines and Saudi Airlines will carry half of the pilgrims each. The two airlines will operate 169 return flights.
As many as 4,230 pilgrims will perform hajj under government management and the rest under private management.