FBI team meets DB officials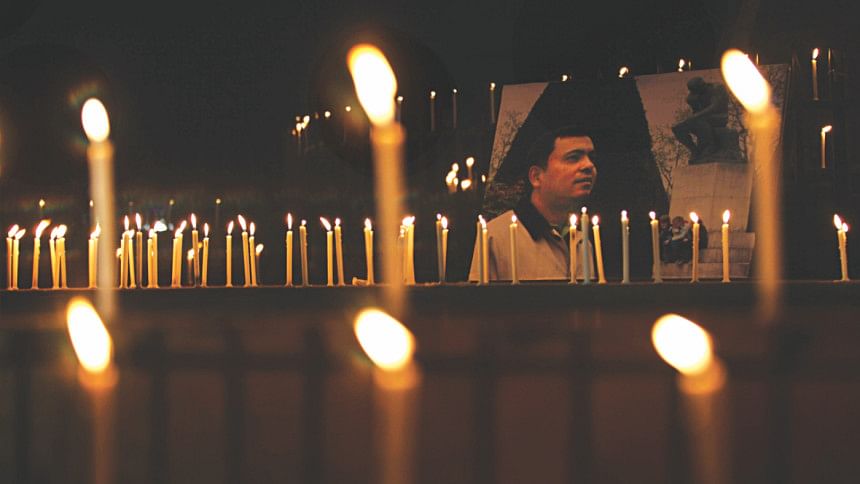 Four officials of the US Federal Bureau of Investigation (FBI) yesterday joined the local law enforcement agencies in the murder probe of writer Avijit Roy.
They held a lengthy meeting with a team of Detective Branch (DB) of Police at the DB's Mintoo Road office.
It could not be known how many of them actually flew in from the US and whether any of them was assigned to the US embassy in Dhaka.
The authorities concerned refused to divulge their names and designations.
"They wanted to know whether there are witnesses to the murder, photographs of the crime scene, and who are the suspects," Joint Commissioner of DMP Monirul Islam told reporters after the meeting.
During the three-hour-long meeting, the detectives shared information they obtained so far.
The DB had sought the help of the FBI on forensic tests and their expertise in investigation, said another DB official.
"We are going to seek their help in detecting a person and an organisation using social media for crimes," the official added.
Earlier, officials of the FBI and the Interpol visited the country to help local investigators probe the August 21 grenade attack, the attack on the former UK high commissioner Anwar Chowdhury, and the killing of former finance minister Shah AMS Kibria.
Unknown assailants hacked Avijit to death and seriously injured his wife Rafida Ahmed Bonya on Dhaka University campus on February 26.
The Bangladesh-born US citizens came to Dhaka on the occasion of Avijit's book launching at the Amar Ekushey Boi Mela.
Bonya was flown back to the US where she is being treated for her injuries. Her family members said she was getting better.
The United States, which strongly condemned the brutal killing of the writer, offered to assist with the investigation and Bangladesh accepted the offer.
Meanwhile, several sources in law enforcement agencies said another person was detained in connection with the murder but the matter was kept secret.
Denying the detention of another person, DB officials said only one suspect, Shafiur Rahman Farabi, who had repeatedly issued death threats to Avijit, had been arrested so far.