Efforts to be made to end migration of coastal people
Staff CorrespondentDelta Coalition members have decided to introduce some programmes to stop ongoing migration and displacement of coastal people.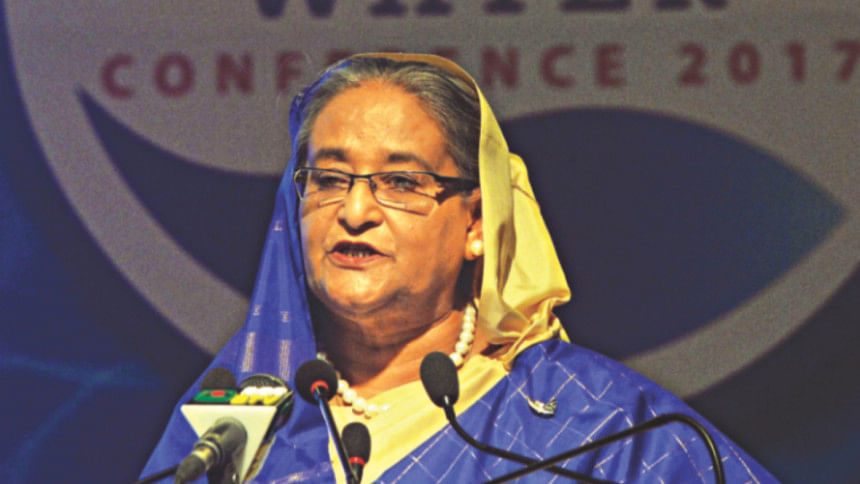 Staff CorrespondentDelta Coalition members have decided to introduce some programmes to stop ongoing migration and displacement of coastal people.
They have also agreed to actively address the situation emanating from the permanent loss of cultivable land and human habitats owing to coastal soil erosion, sea level rise and coastal flooding, land subsidence due to over extraction of underground water.
The policymakers of the platform came up with 20 decisions as mentioned in the "Delta Coalition Dhaka Declaration" adopted yesterday at Dhaka Water Conference 2017.
Prime Minister Sheikh Hasina inaugurated the coalition's ministerial conference at Sonargaon Hotel. Ministers from three Delta Coalition member countries and high-level representatives from eight other member states attended the meeting.
Speaking at the programme, the PM said projects were being implemented to ensure supply of safe water to all divisional cities from surface water sources by 2021.
She said new canals were being excavated in the capital and initiatives were on to re-excavate the old ones. Steps were also underway to build reservoirs for rainwater harvesting, Hasina added.
After a one-hour closed-door meeting, Water Resources Minister Anisul Islam Mahmud told journalists that the Dhaka conference would significantly contribute to attaining the Sustainable Development Goal-6.
The Delta Coalition is the world's first international coalition of governments that have formed a partnership to deal with coastal flooding, wetland loss, shoreline retreat and loss of infrastructure to make the deltas more resilient.
The coalition agreed on stepping up efforts to mobilise funding from private sector, bilateral development partners, and international financing institutions and funds for inclusive and sustainable development and management of the deltas.
The member countries pledged to raise awareness at national levels in tandem with the civil society, academia and experts, funding agencies and private sectors to promote and deploy pragmatic response to the pressing delta issues and climate change.
According to the Dhaka Declaration, the coalition members will strengthen mutual cooperation to formulate bankable projects and practicable policies at national level and to adopt befitting solutions and financing of those to address the critical challenges of the Deltas and coastal zones.
The member states also agreed to forge cooperation among them to deal with deltaic water governance issues at sub-regional, regional, multilateral and international levels.
They decided to pursue integrated development and sustainable delta management and cross-border cooperation for basin wise management of the trans-boundary/international rivers and initiate/continue discussions at regional, sub-regional and international levels despite having divergent pursuits and realities of various countries.
The organisation would extend mutual assistance and cooperation in research and innovation, and technical and technological support to realise the project based activities on climate change adaptation and critical delta issues as well as other specific and common goals in the water sector of the member countries.
The Delta Coalition facilitates discussion, exchange, innovation and creativity between the participating members and observers. It aims to get things done to improve and protect lives in urban deltas.
The 12 members of the platform are Bangladesh, Colombia, Egypt, France, Indonesia, Japan, Mozambique, Myanmar, the Netherlands, the Philippines, South Korea and Vietnam.
Yesterday's meeting welcomed Egypt as the new prospected Chair in Office after Bangladesh. It also greeted Argentina as a new core member of the coalition.