Prayers for café victims
'The way Faraaz died represents true spirit of Bangladesh, Islam'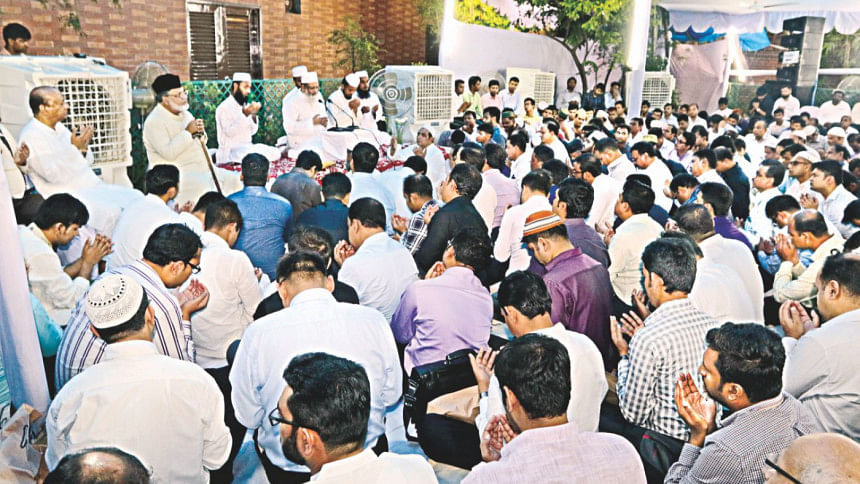 The kind of death Faraaz died in the Gulshan cafe attack a year ago represents the true spirit of Bangladesh and Islam, said leading businessman Latifur Rahman yesterday while remembering his grandson at a milad mahfil held at his Gulshan residence.
Similar milad mahfils were organised in 28 districts yesterday, seeking blessings for the departed soul of Faraaz and the other victims of the attack.
"The savage terrorist attack was a watershed for Bangladesh," Latifur said at the milad at his home. "We have to fight such mindless terrorism, as the menace is not going to disappear suddenly."
It is heartening that since the attack, the government has shown zero tolerance for terrorism, he said.
Faraaz Ayaaz Hossain sacrificed his life for his friends Abinta Kabir and Tarishi Jain during the Holey Artisan Bakery attack on 1 July last year in which 22 innocent people were killed.
According to some news reports, during the attack, the militants, who mostly targeted foreign nationals, had asked Faraaz to leave. But his friends Abinta and Tarishi, who had foreign citizenships, were not allowed to go. Faraaz refused to leave his friends behind and was eventually killed along with them.
"We, despite such a brutal murder of our grandson, never thought of leaving Bangladesh, as we have to stand, fight and succeed in eliminating the menace," said Latifur at the milad.
"I do not have the strength of character that Faraaz demonstrated and our entire family is proud of the fact that we were honoured and blessed with a person like him," he said. 
Faraaz is being honoured at both home and abroad for his love, friendship and courage. 
Faraaz's elder brother Zaraif Hossain, while remembering Faraaz's courage, sacrifice and love for humanity, said that his death brought honour not only for their family but for the country also.
Shah Syed Muradullah Ahmed, popularly known as the Pir of Narinda, who conducted the milad, said that the bravery of the 20-year Faraaz for the sake of friendship was praiseworthy.
"He preferred death instead of deserting his friends in dire danger to save his own life like a coward," said the Pir (a spiritual leader). Referring to the holy Quran, he said, ""Those who have patience in danger will be rewarded in the afterlife."    
"He died the death of a martyr, as he laid down his life for truth, justice and friendship," he added.
A doa mahfil was also organised in the Tangail branch of SKF Pharmaceuticals in the memory of Faraaz.