Cultural Heritage: Shital Pati on Unesco list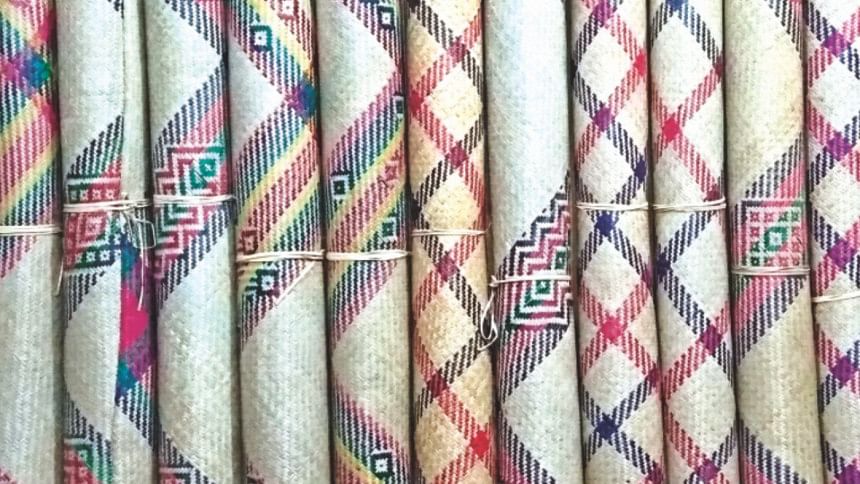 Traditional art of Shital Pati weaving of Sylhet has been included in the Unesco's Representative List of the Intangible Cultural Heritage (ICH) of Humanity.
The recognition came on Wednesday at the twelfth session of the Intergovernmental Committee for the Safeguarding of the ICH from December 4-9 at Jeju in South Korea.
This is the fourth ICH from Bangladesh recognised by the Unesco. Except it, Mangal Shobhajatra on Pahela Baishakh was recognised as the ICH last year, while Baul songs and traditional art of Jamdani weaving got the recognition in 2008 and 2013, according to the Unesco.     
This year, 35 nominations have been submitted for getting inscribed on the Representative List of the Intangible Cultural Heritage of Humanity, and the Shital Pati is one of them.
Shital Pati is the traditional art of making a handcrafted mat by weaving together strips of a green cane known as "Murta".
The mat is used by people all over Bangladesh as a sitting mat, bedspread or prayer mat.
The main bearers and practitioners are weavers living mostly in the low-lying villages in the greater Sylhet region, but there are also pockets of Shital Pati weavers in other areas of the country.
Both men and women participate in collecting and processing Murta, with women being more involved in the weaving process. The craft is a major source of livelihood and a strong marker of identity; primarily a family-based craft, it helps to reinforce family bonding and create a harmonious social atmosphere. Mastery of the technique commands social prestige, and the practice empowers underprivileged communities, including women, according to the Unesco.
The government promotes awareness of the element through local and national craft fairs, and Shital Pati communities are increasingly being organised into cooperatives to ensure the efficient safeguarding and transmission of the craft and guarantee its profitability.
Safeguarding efforts involve the direct participation of the communities concerned and the practice is primarily transmitted from generation to generation within the families of craftspeople.