Condition of Khadiza improves a bit
The condition of Khadiza Begum Nargis, who is struggling for life at the Square Hospital, improved slightly yesterday.
According to the hospital's information section, however, her recovery will take a long time.
Khadiza's brother Shahin Ahmed told reporters in front of the hospital that she slightly moved her leg yesterday morning.
The hospital authorities postponed yesterday's prescheduled briefing on her condition. The briefing would be held today.
The Sylhet Government Women's College student, now undergoing treatment at the Neuro Intensive Care Unit of the hospital, was brutally hacked by Badrul Alam, a fourth-year student of Shahjalal University of Science and Technology (Sust) and also senior assistant secretary of Chhatra League unit at Sust.
The gruesome attack was carried out on the campus of Murari Chand College (MC College) where the victim had gone to take part in one of her examinations.
Meanwhile, the mother and class mates of Suraiya Akter Risha, who was stabbed to death by her stalker, visited Khadiza at the hospital yesterday evening.
"If exemplary punishments were meted out to the killers of my daughter and other girls, Khadiza would not have been attacked this way," Risha's mother Tania Hossain told reporters in front of the hospital.
She added that her daughter, a student of Willes Little Flower School, died of her injuries 40 days ago and that she could feel the pain of Khadiza's mother.
THE YOUTH WHO RUSHED TO HER RESCUE
After Badrul left the scene, Khadiza, with critical injuries on her head, was lying on the ground.
"I went near the scene out of curiosity to see why there was so much commotion. I saw a girl lying on the ground and ran towards her. Everyone was watching from a distance," said Imran Kabir, a university admission seeker who took Khadiza to hospital.
Seeing her up close, he thought Khadiza's head had broken apart.
Imran, who was taking a stroll near the scene, added that Khadiza was wearing a headscarf, and he tried to stop her bleeding with that piece of cloth.
"When I tried to lift her from the ground, my clothes got soaked in blood," Imran told our Sylhet correspondent who visited his house in Tilagarh area of Sylhet city yesterday.
"I was all alone. 'She has to be taken to a hospital,' this was all I was thinking about. I screamed for help but no one came forward. After a few minutes, two MC College students came and the three of us carried her out of the campus," said the 19-year-old.
They hired a three-wheeler and took her to Sylhet MAG Osmani Medical College Hospital.
"As soon as we reached the hospital, doctors gave us a list of medicines and said blood would be needed."
Luckily, Imran's blood group matched with that of Khadiza's and he, despite being underweight, donated blood.
Khadiza's fellow students began to arrive at the hospital about 20 minutes later. In the meantime, Imran had bought the necessary drugs.
A few hours later, Khadiza's family members arrived there. At that time, Imran was almost on the verge collapse.
Son of Nazrul Islam and Taslima Akter of Dhalarpar in Sylhet's Companiganj upazila, Imran passed Secondary School Certificate exam from Dhalarpar High School in 2013 and Higher Secondary Certificate exam from Sylhet Government College in 2015.
After the incident, he became quite popular on social media. Thousands of people have posted and shared his photos on Facebook, where he is seen in blood-stained clothes.
As some local BCL leaders claimed that Imran was their activist, he said, "I am not involved in any political party."
DEMONSTRATION ON
Demonstrations demanding Badrul's exemplary punishment continued for the fourth consecutive day yesterday in Sylhet, reports our correspondent there.
Bangladesh Nari Mukti Sangshad held a protest rally at the Sylhet Central Saheed Minar in the afternoon.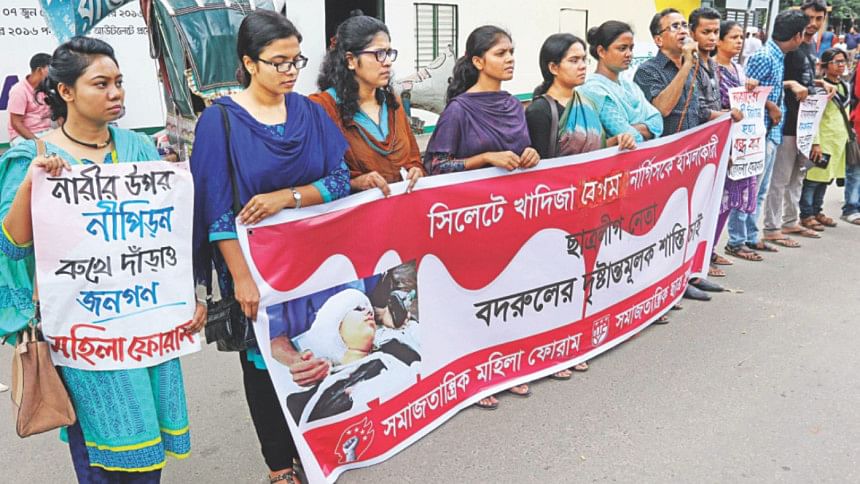 Indrani Sen, president of Sylhet chapter of the organisation, said the brutality shown by Badrul could not be tolerated in a civilised society.
Meanwhile, Sylhet police yesterday detained a teenage boy for allegedly threatening one of the female protesters over the phone.
The class-VII student admitted to threatening Sanzida Nahid Sultana, a student of Sylhet Government Women's College, said Sylhet Metropolitan Police's Additional Deputy Commissioner (media) Rahamat Ullah.
Sanzida lodged a general diary in this connection with Kotwali Police Station on Thursday, he added.