Clintons earn over $25m in a single year
Obamas have just $1,000 in savings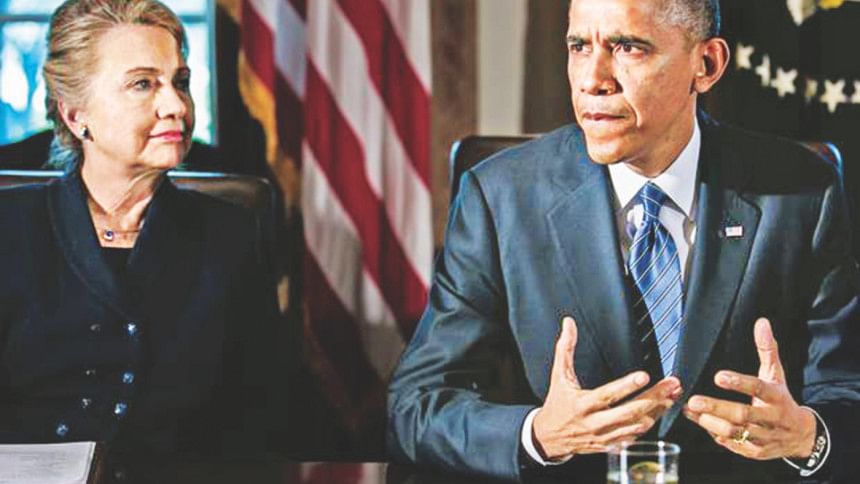 Hillary Clinton is facing criticism from both Republicans and Democrat presidential rivals after it emerged she and husband Bill earned over $25 million delivering public speeches in the past year – while the Obamas have just $1,000 in a single savings account.
New financial disclosure reports put the Clintons comfortably within the top 0.1 per cent of US earners – and critics said their millions from the speaker circuit "raise ethical questions" and show they can't represent the American middle class.
Hillary Clinton, the frontrunner for the Democratic presidential nomination in 2016, has charged $250,000 per public address since she stood down as Secretary of State in 2013.
Ms Clinton also made more than $5 million from her memoirs, Hard Choices, published last year, and sparked controversy while touring her book when she claimed her family was "dead broke" after they left the White House in 2001.
Meanwhile, similar disclosures for the Obama family revealed that they have just $1,001 in a single JP Morgan account filed under savings.
While their net worth is nothing like the Clintons' reported $55 million, the Obama family is far from poor.
Much of their wealth appears to be tied up in Treasury bills, one of the safest forms of investment. Their disclosure revealed Barack and Michelle's largest joint asset was government-issue notes for between $1 million and $5 million (public figures are allowed to report their finances within a broad range).
They have also tied up as much as $400,000 in college funds for their two daughters, while Mr Obama's retirement pot holds an estimated $350,000 – bringing the Obamas' total assets up to between $2 million and $7 million.
Republicans have already begun criticising Hillary Clinton for her relative wealth, and claim her paid-for speeches at financial institutions like Goldman Sachs make her beholden to big business.
Reince Priebus, the chair of the Republican National Committee, said: "The Clintons' claim that staggering amounts of income from paid speaking fees that raise ethical questions and potential conflicts of interest is simply to 'pay our bills' shows how out-of-touch they've truly become."