CJ may fly to Australia on Friday
SC authorities write to president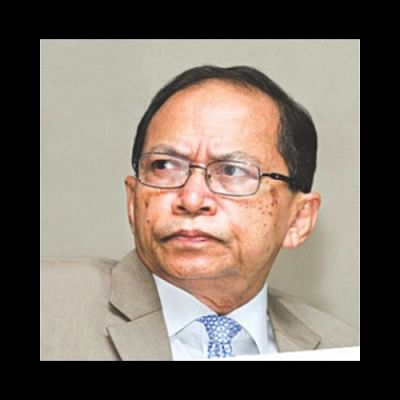 The Supreme Court authorities yesterday sent a letter to the president informing him that Chief Justice Surendra Kumar Sinha, who is now on leave on health grounds, would go to Australia to see his daughter and receive treatment.
The letter, signed by Md Zakir Hossain, registrar of the Appellate Division of the SC, said the CJ may leave on Friday or any nearest date and stay there till November 10, a top official at the court told The Daily Star.
Sinha has been on a month's leave since October 3. Replying to a question, the official, who wished not to be named, said the CJ himself can extend his leave anytime. 
The letter would reach the law ministry which would forward it to the president through the prime minister's office, he said.
The official also said whenever the chief justice goes on leave or abroad, the SC authorities inform the president about the matter so that he can assign another judge of the apex court to discharge the CJ's duties.
Law Secretary ASSM Zahirul Haque Dulal told this correspondent his office received the letter yesterday.
Meanwhile, Supreme Court Bar Association, which is currently dominated by pro-BNP lawyers, led by its President Zainul Abedin and Secretary AM Mahbub Uddin Khokon, staged demonstrations on the SCBA premises yesterday protesting what they said confinement of the chief justice.
The BNP claimed the CJ was sent on a forced leave.
Nitai Roy Chowdhury, Abed Raza, Taimur Alam Khandker, Gazi Kamrul Islam Sajal, Umme Kulsum Rekha, among others, spoke on the occasion.
On the other hand, ruling Awami League-backed lawyers' body Bangabandhu Awami Ainjibi Parishad held a meeting at the North Hall of the SCBA building yesterday.
They alleged the pro-BNP and pro-Jamaat lawyers were doing politics over the CJ's leave.
Attorney General Mahbubey Alam, AL Presidium Member Advocate Abdul Matin Khasru, Bangabandhu Awami Ainjibi Parishad's Convener Yusuf Hossain Humayun and its Member Secretary Sheikh Fazle Noor Taposh, Bangladesh Bar Council Vice Chairman Abdul Baset Majumder, among others, spoke at the meeting.