Campaign ends, tension remains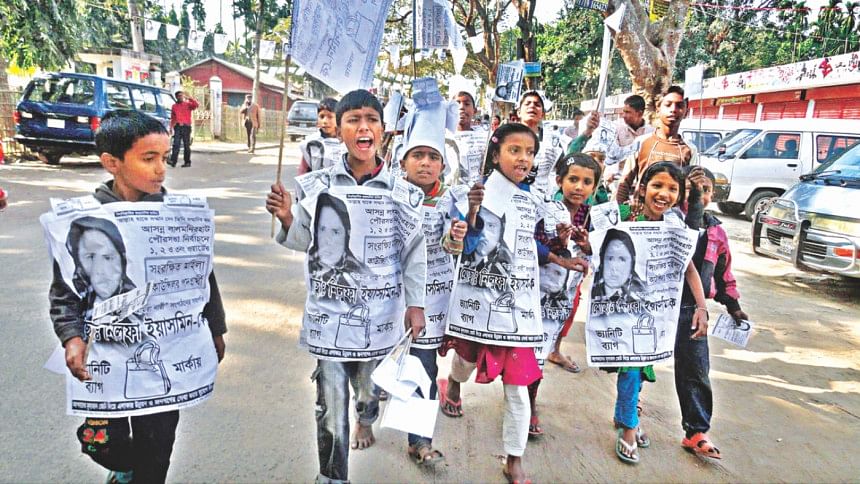 As the three-week electioneering ended yesterday midnight, the Election Commission imposed a restriction on outsiders' stay in electoral areas.
The EC asked all the returning officers to make sure that no outsiders were in electoral areas.
Like the previous days, the last day of campaigning also saw violence across the country, report district correspondents.
A BNP leader was killed in Matiranga of Khagrachhari and some 200 people were injured in violence during electioneering in the last three weeks, according to media reports.
A total of 234 municipalities will go to polls tomorrow. Candidates officially started campaigning on December 9, five days before the Election Commission allotted electoral symbols to them.
The electoral code of conduct bars any kind of electioneering 32 hours ahead of voting. Besides, movement of vehicles on roads and vessels on waterways would be restricted for 24 hours from midnight today.
Movement of auto-rickshaw, taxicab, human haulier, microbus, jeep, pick-up, car, bus, truck, launch and speedboat would remain banned.
Motorcycles also stayed off roads from midnight yesterday. The restriction will remain in force till 6:00am Thursday.
In Morelganj municipality of Bagerhat, some Awami League men yesterday allegedly attacked the residence of BNP mayor hopeful Abdul Mazid Howladar, leaving five people, including Mazid and a journalist, injured.
In Bagerhat municipality, AL activists allegedly torched a microbus which was being used for campaigning for a party rebel mayor candidate.
In Chaugachha municipality of Jessore, a man was wounded when supporters of AL mayor aspirant and a party rebel candidate locked into a clash.
In Kurigram municipality, unidentified criminals set fire to the AL's upazila unit office around 12:35am.
In Swarupkathi municipality of Pirojpur, some AL and Jubo League men allegedly attacked a group of supporters of BNP mayor hopeful Shafiqul Islam at Jagannathkathi village around 6:00pm when they were distributing voter slips there, said locals.
In Nawhata municipality of Rajshahi, unidentified criminals hurled a crude bomb at some supporters of AL mayor hopeful Abdul Bari Khan in Puthiapara area around 7:00pm, leaving five people injured, said Shariful Islam, OC of Poba Police Station.
CONFUSION OVER CANDIDACIES
In Sitakunda of Chittagong, family members of mayor aspirant Safiul Alam, who resigned from the AL on December 9, yesterday claimed that Alam would not be in the polls race.
The candidate came under attack from some AL men when he was addressing a press conference at Sitakunda Press Club around midnight Sunday.
"I am not feeling secure. The polls atmosphere is not favourable for a fair election," Alam's son-in-law Safiul Ahmed Shamim told The Daily Star quoting the candidate.
This newspaper could not reach Alam over the phone as it was switched off. The mayor hopeful even did not appear in public after the attack.
In Satkania of Chittagong, BNP's mayor candidate Rafiqul Alam around noon yesterday announced that he would take part in the polls.
He made the announcement about 20 hours after declaring that he would not contest the polls for fear of "false cases". 
Around 3:00pm, Rafiqul came under attack allegedly by AL men when he was campaigning in Kanupukurpar area of the municipality.
EC WARNS MP
The EC yesterday in a letter to lawmaker Gazi M M Amjad Hossain (Sirajganj-3) warned him of not violating the electoral code of conduct, said EC officials.
On Sunday, the commission asked AL lawmakers Dhirendra Debnath Shambhu (Barguna-1) and Showkat Hasanur Rahman Rimon (Barguna-2) to leave electoral areas.
As per electoral code of conduct, VIPs including ministers, MPs and parliament whips cannot stay in electoral areas after the announcement of the polls schedule. They only can visit those areas after the voting is completed.
Meanwhile, Chief Election Commissioner Kazi Rakibuddin Ahmad last evening called upon all political parties and candidates to keep their supporters in check to help the commission hold the polls in a festive mood.
The EC formed a seven-member committee to monitor the overall situation during the polls. Brig Gen Sultanuzzaman Md Saleh Uddin, director general of the EC's National ID wing, will head the team, said EC sources.
In another development, the commission yesterday asked the police authorities to withdraw officers-in-charge of Phulpur Police Station in Mymensingh and Shahjadpur Police Station in Sirajganj for allegedly working in favour of AL mayoral nominees.
With the two, the EC ordered withdrawal of eight OCs in the last two weeks.