Brutal!
Yaba addict stabs pregnant wife, killing unborn baby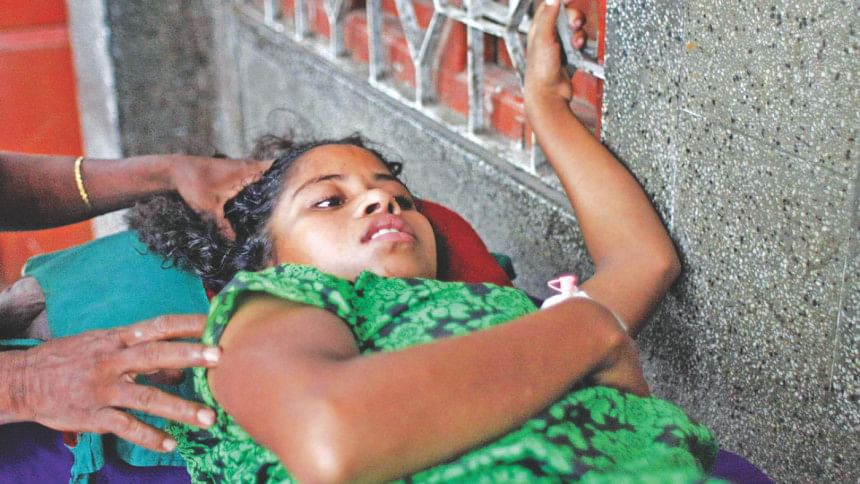 Anis's story is an example of how Yaba can transform a normal person into a brute.
Married with two children, Anis stopped supporting his family, and sold off his shop and shanty. Then came his prolonged spell of frustration and not too unpredictably, he took it all out on his pregnant wife, Morsheda.
He ended up stabbing her with a pair of scissors, critically injuring her and killing the unborn baby, according to a relative.
Anis, 26, a resident of Tejgaon Station slum, a yaba hub in the capital, got addicted to Yaba a year after his marriage in 2009.
Their daughter Munni is 5 and son Hira 3. 
"My husband was fine when we married six years back. He had a grocery shop. I also used to help him," said Morsheda Begum, 22, who has been admitted to Dhaka Medical College Hospital (DMCH) since June 11.
But things had started to change since Anis took to Yaba.
"The profit we used to make was spent on buying Yaba, and not a penny on the family," said Morsheda, a sick and thin mother lying at a bed of the hospital's casualties department.
He then sold the grocery shop and squandered all the money on Yaba with his friends. Helpless, Morsheda sought his relatives' help to get by.
Finally, four months back, he sold off his last asset, a tin-shed shanty, beside the railway track at Tejgaon for Tk 10,000. The buyer, however, allowed the family to stay there for some weeks following Morsheda's request.
Anis started spending most nights out. Once the money was all wasted in a few weeks, he asked Morsheda to go to work in a garment factory or as a domestic worker, but she refused. 
"I said kids are small so it is hard to take a job. But he began beating me. It only worsened day by day," said Morsheda. "Sometimes I used to give him some money that I got from my relatives just to prevent him from beating me. Nothing could satisfy him."
Three months back, Anis suggested Morsheda sell one of their children. Then she decided to leave him. So she moved to her aunt Razia Begum's place in the same slum and stopped communications with him, fearing that he might sell the kids.
Then came the dreadful night.
In the early hours of Friday, someone hit the door of Razia Begum's house and shouted to open it. As Anis tried to break in, Razia opened the door.
"As soon as I opened, Anis stabbed me on the back with a large pair of scissors. I cried aloud and fell down. He then targeted Morsheda's elder sister Lipi. As she ran to dodge him, Anis found his wife Morsheda in a corner and stabbed her forcefully in the abdomen," said Razia.
Neighbours rushed to the spot. After injuring Sujan, Morsheda's cousin, he got onto a running train and escaped.
Morsheda was rushed to the DMCH. After a surgery, doctors claimed the fetus was unhurt and alive. However, after examining an ultrasound report yesterday evening, doctors said the embryo is not moving.
"The embryo died as it was hit by the scissor. Morsheda now needs to be operated immediately, otherwise she may die," a doctor at DMCH was quoted as saying by one of Morsheda's brothers.
Morsheda's sister filed a case against Anis and police are trying to arrest the accused, said Tejgaon Police Station OC Mazharul Islam.