Brisk business with fake note
Gang of 7 fraudsters held, huge amount of fake notes seized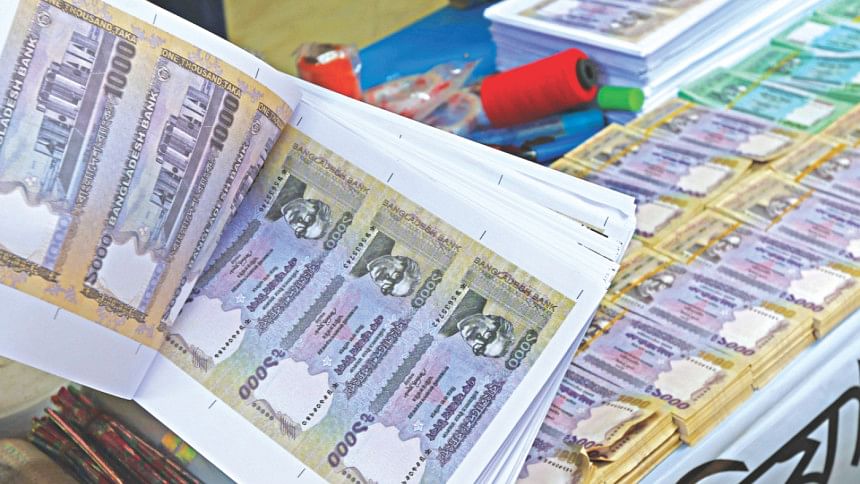 Detectives arrested seven members including the ringleader of a currency counterfeiting gang and seized fake notes worth Tk 67 lakh in separate drives in the capital and Narayanganj on Tuesday.
The arrestees are Rafiqul Islam, 40, the ringleader, Jahangir, 35, Nizam, 35, Shaheed, 27, Abdur Rahim, 37, Jakir, 20, and Mahmud, 32.
Abdul Baten, joint commissioner of detective branch of Dhaka Metropolitan Police, told reporters at the DMP media centre that on information, a team of police arrested Jahangir, Nizam and Shaheed at Mir Hazirbagh in Jatrabari around 11:00am on Tuesday.
Based on their information, the police arrested the rest of the gang at a fake note-making factory at Fatullah in Narayanganj and seized the fake notes.
The gang could make fake notes worth Tk 20 to Tk 25 lakh only within a day. Once prepared completely, the gang used to sell Tk 1 lakh in fake notes in exchange for only Tk 6,000 to their agents in the districts.
Then the agents used to sell the notes at upazila level and keep the fake notes circulated in the market.
The equipment confiscated from the criminals included a notebook computer, a printer, ink cartridges, wooden frames, plastic jars and huge blank paper sheets.
Baten said Rafiqul was involved in the offence for around 15 years, but they could not immediately say if he was arrested beforehand.
A DB official said the gang had already circulated a good amount of fake notes.
They used to circulate face notes mainly in the fish market and places at upazila level where such notes change hands often undetected, he said.
In another drive at Badda in the capital, detectives arrested three fake dollar sellers and seized $3,500 from their possession.
They are Babul Hossain, 30, Al Amin, 41, and Alkas Sheikh, 32.
Baten told reporters that the arrestees used to show genuine dollar to the buyers but provide fake dollars during exchange.