Belgian firm gets dredging job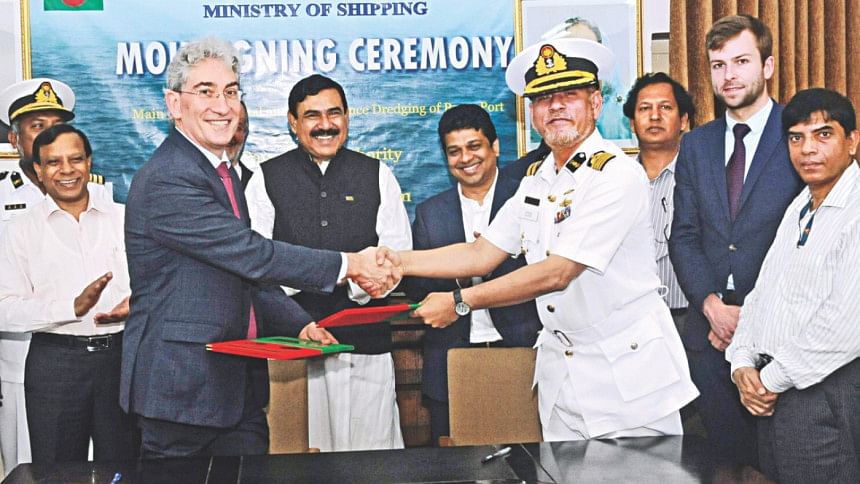 The Payra Port Authority (PPA) under the shipping ministry yesterday signed the first memorandum of understanding (MoU) with Belgian company Jan De Nul for capital dredging and ongoing maintenance dredging to develop the Payra Deep-sea Port.
As a Foreign Direct Investor, Jan de Nul will carry out a major capital dredging of about 35 nautical miles on Rabnabad channel in Patuakhali's Kalapara.
Acting Chairman of PPA Capt M Saidur Rahman and Jan De Nul executive De Hert Danny signed the MoU on behalf of their respective organisations in Dhaka. Shipping Minister Shajahan Khan was present on the occasion as chief guest.
The estimated $2 billion job aims to make the channel operational for deep-sea port by the end of 2018 and facilitate entry of vessels with up to 14 meters of draught and 300 meters in length.
Jan De Nul was selected out of 10 companies that submitted proposals for dredging work. A shipping ministry evaluation committee found the Belgian firm the most responsive bidder.
This is one of the 19 components of the Payra Deep-sea Port located on the west bank of Rabnabad Channel at Lalua union in Kalapara.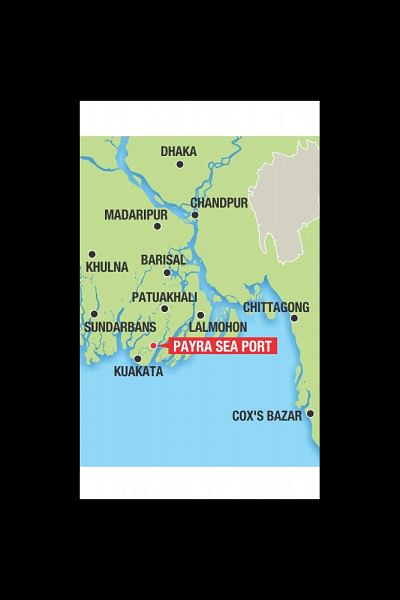 The Belgian company that specialises on dredging and civil engineering works will now form a joint venture company with the PPA, and close the financial arrangements between six months and one year to begin the dredging work.
Capital and maintenance dredging are the main challenging works for this economically-potential port as viability of other components depends on the effectiveness of channel dredging.
"We will have a terminal for coal which would ensure the setting up of a 6,340MW power plant," said the shipping minister on the occasion.
"Ship building industry will flourish alongside exclusive export processing zones. Oil refinery and fertiliser factory will emerge utilising the infrastructural facility of the port. To sum up, the long-term construction activities will create huge employment opportunities for the people living in the area," he added.
PPA Acting Chairman Capt Saidur Rahman added, "By building this port, the economy of the south-central region of Bangladesh will grow tremendously. Implementation of capital dredging is associated with long-term construction work for port development activities."
According to a press release of the PPA, usage of port facility in the country was increasing at an average of 12 percent.
With a 7 percent GDP growth, Bangladesh aims to become a middle income country by 2021. By that time, the country targets at exporting $50 billion worth of garment products and establishing several special economic zones. Such a projection demands Bangladesh expand its port facilities -- especially when the country's two existing ports do not have capabilities to serve large vessels.
This is why the government had taken the initiative to build the deep-sea port. Accordingly, a law -- Payra Port act, 2013, -- was passed in parliament on November 5, 2013. Prime Minister Sheikh Hasina inaugurated the Payra Sea Port as the third sea port of the country on November 19, 2013.
The government in August 28 last year invited Expression of Interest (EOI) seeking proposals from local and foreign companies to implement the 19 components of the Payra port project.
The endeavour has drawn investment and development proposals from China, the UK, Belgium, the Netherlands, Denmark and India.
HR Wallingford, a UK-based consultant to Payra port, has developed a 35 nautical mile-long channel dredging plan from Rabnabad channel to outer anchorage. Intensive capital dredging followed by maintenance dredging is essential to implement designed channel navigable of 16 meter draught vessels.
According to the press release, a 1320MW coal power project of North-West Power Generation Company, a China-Bangladesh joint venture located adjacent to Payra port, will start operation from 2019. Huge amount of coal will be imported using Payra port facility. Dredging of alluvial shallow plain between Rabnabad channel and Fairway buoy would form a navigable channel for carrying coal to the NWPG berth.
A bulk terminal and a multipurpose terminal will be built by 2018 under a mid-term plan to bring 10 meter draught vessels to the inner harbour.
The Payra port will require a total of 7,000 acres of land. Of this, 6,000 acres will be used for port development, 500 acres for coal terminal and the remaining for resettlement of people affected by the construction of the port.