Beggar? Not anymore
Atrai river gives over 2,000 destitute a chance to be farmers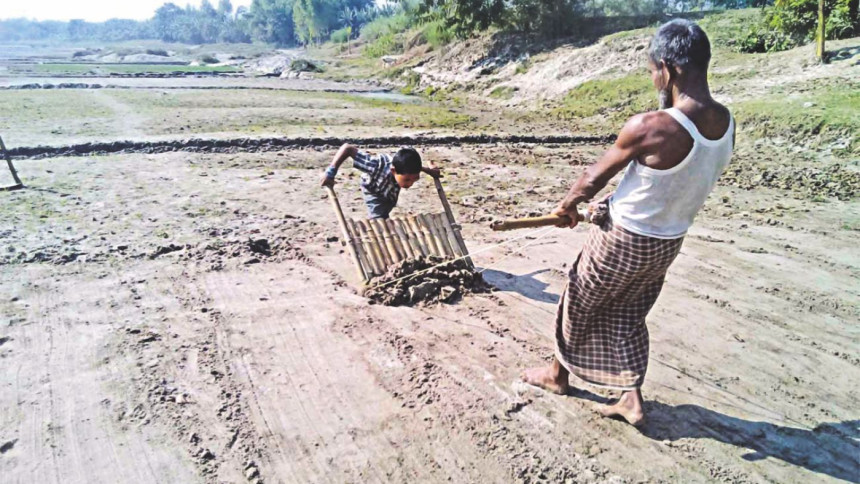 Jahirul Islam of Birganj upazila has given up begging after he found the goose that lays golden eggs. 
He and nearly 2,000 others in Satogram union of the upazila have ended their plight by farming various winter vegetables, especially onion and garlic, on the riverbed of the Atrai during the dry season.
The Atrai river dries up in winter leaving a layer of fertile silt on top, which turns into a vast farmland for landless, destitute people living in the surrounding areas.  
"I don't go panhandling anymore. I've given up that profession as I have become self-reliant by farming," said Jahir who lives with his wife and five children at a government-housing project for the destitute in Dudumari area of the upazila.
He now grows vegetables in the dry season and does other works such as pulling rickshaw in the rest of the year.
The silted riverbed is so fertile that crops grow there without any artificial fertilizer or without any extensive preparation of the land -- an advantage that helps keep the cost of production to a minimum.
That enticed poor people to try out their luck in farming with the small capital they could gather.  
Landless Zakir Hossain of Jharbari village had hardly made a living just by pulling a rickshaw van.
After he began growing winter vegetables on the riverbed alongside pulling rickshaw van, his financial condition improved. He can now provide for his family.
"The gray, glassy riverbed turns green in winter as we plant crops," Zakir said, while gazing proudly at the vast plain covered with green plants.
Elhaz Mia, a farmer of Kashimnagar village, has been growing vegetables on the riverbed for the last five years.
"Harvests here are bountiful without even applying chemical fertilizer, thanks to the layer of fertile silt," he said. Farmers don't even have to spend much to pay labourers, as the land doesn't need much preparation.
Since pest attack is not severe, many farmers save more by not using any pesticide, Elhaz said.
Apart from the most profitable onion and garlic, varieties of green leaves, cucumber, pumpkin, corn and rice are grown there.
Farmers start preparing the land in October-November when the water in the Atrai starts receding.
Many of them grow multiple vegetables and usually harvest their last produce by the month of May when the riverbed starts becoming inundated again.
A landless farmer makes an average monthly income of nearly Tk 11,000 by farming and pulling rickshaws.   
Azizur Rahman, of Kashimnagar village, has spent Tk 10,000 for planting onions on 50 decimals of land on the Atrai, and he expects to earn Tk 20,000 this year.
More and more landless people are being drawn to farming on the riverbed as the income is high and cost less, he said.
Shahid Miah is another successful landless farmer in the area. He turned things around for his family through farming and now he can even afford educational expenses of his children.
"Last year, I reaped a bountiful harvest of garlic and Aman rice," he said. 
Following in the footsteps of others, Mosaful Islam stopped begging this year and planted onion on the dried-up Atrai. 
The landless people are doing amazing things by producing crops on an otherwise useless piece of land, said Mostafizur Rahman, of the Department of Agriculture Extension, Birganj.