AL Wounding AL: For gaining control, making money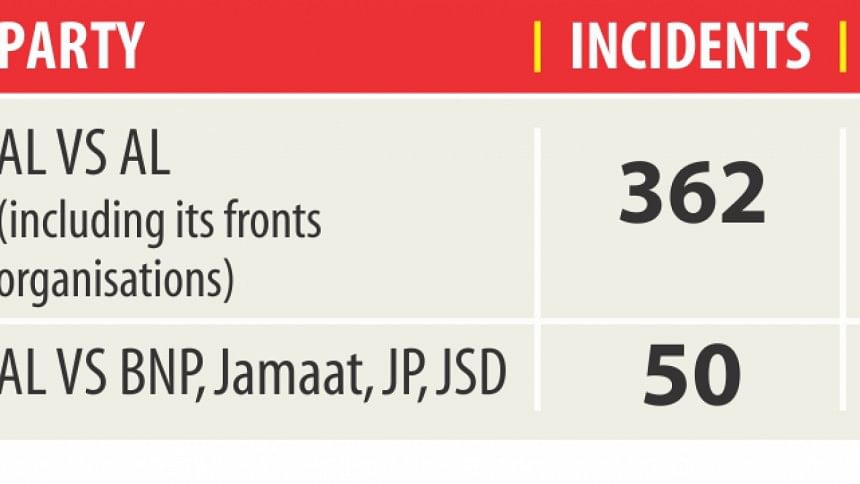 The infighting of the ruling Awami League keeps taking place, often claiming lives, though its central committee on several occasions directed local units to stop recurrence of such incidents.
At least three ruling party men were killed and 20 others injured during a clash between two factions of a local AL unit over control of a Jolmahal (water body) in Sunamganj on January 17.
Two weeks later, Pravash Ray, president of a union unit of AL in Narail, was hacked to death. The family alleged it was a sequel to the AL infighting over the last union parishad elections.
On Friday, a journalist of Daily Samakal died after being hit by a bullet during a factional clash of AL men in Shahzadpur upazila of Sirajganj. 
Insiders say local leaders want to establish supremacy within the party and also in localities for financial gains, leading to factional feuds. And experts believe perpetrators in many cases get away scot-free and this is a key reason behind the recurrence of such conflicts.
According to rights body Ain o Salish Kendra (ASK), at least five men were killed and 224 injured in 13 incidents of internal clashes last month.
And at least 54 AL men were killed and nearly 3,700 injured in 349 incidents of internal clashes in 2015-16.
The ASK statistics are based on newspaper reports and its own investigation.
REASONS
Factions often get locked in clashes over establishing supremacy in respective areas and controlling extortion and tender business, party insiders say.
Infightings become unavoidable due to the lack of chain of command, row between former and incumbent lawmakers and among party leaders, absence of organisational activities and widening gap between the central body and the grassroots.
In many cases, AL central leaders fail to resolve conflicts at the grassroots level.
During last year's election of local bodies, intra-party feuds at the grassroots level took a turn for the worse when dissidents contested the race defying the high command's order.
Many dissidents were expelled from the party but the punitive actions could not contain them.
In many areas, AL men appeared as the main challenger of party nominated chairman candidates. Their supporters got engaged in clashes.
The ASK report does not include casualties in polls violence.
An AL central leader on Saturday said the party is not only embarrassed but also concerned over the incidents of infighting across the country.
"We have taken many initiatives to stop intra-party feuds but all went in vain. We actually don't know what to do now," the leader told The Daily Star, wishing anonymity.
In many cases, local units suspended errant leaders, and as per the party constitution, they send the decision to the central committee for approval. But the central committee rarely approves the unit's decision, insiders say.
This is why, errant leaders don't correct themselves and cause trouble, again.
Contacted yesterday, AL Joint General Secretary Abdur Rahman said they are aware of the party infighting and taking initiatives to resolve the problems.
"We already have taken decision to make organisational tour across the country to contain internal disputes. We have set a target to end intra-party feuds within this year and make the party united keeping in mind the 2019 national elections," he said.
Rahman also warned that if the internal conflicts still cannot be contained, the party would go for tough action against errant leaders and activists.
Shantanu Majumder, a teacher at Dhaka University political science, on Saturday said the ruling Awami League is now unchallenged in absence of a strong opposition.
"The situation would have been different, if there were one or two strong opposition parties to challenge the Awami League," he added.
Nur Khan Liton, acting executive director of ASK, yesterday said that on several occasions, ruling party leaders and activists were seen using licensed firearms in illegal activities. This is very much alarming.
When democratic space shrinks, political opponents become weak and do not get necessary environment to play due roles. This situation is prevailing in the country now, he added. 
In the absence of strong opponents, leaders and activists of the ruling party get involved in an unethical competition among themselves. To be benefited economically, they want to establish supremacy inside the party and also in their localities, leading to intra-party feud, said Nur Khan.