Air pollution kills 7m every year
Dhaka third most polluted among mega cities with at least 1.4m population
Seven million people suffer premature deaths due to household and outdoor air pollution every year around the globe, according to the World Health Organization.
The South East Asian region accounts for 2.4 million of the seven million premature deaths, the WHO estimates after analysing data collected between 2011 and 2015.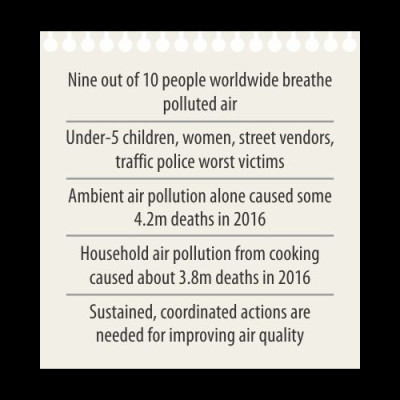 Nine out of 10 people breathe air containing high levels of pollutants, the WHO said in a statement issued in Geneva yesterday.
Among the cities of over 14 million residents, Dhaka has been ranked third in terms of the presence of fine particulate matter with a diameter between 2.5 and 10 micrometres (PM10) in air.
While the acceptable levels of PM10 in every cubic metre is 60, in Dhaka's air it is 147. It is 292 in Delhi and 284 in Cairo.
The data focuses on particulate matters with a diameter between 2.5 and 10 micrometres (PM10 or less) and particles with a diameter of less than 2.5 micrometres (PM2.5).
The PM2.5 includes toxins like sulphate and black carbon, which pose the greatest health risks as they can penetrate deep into the lungs or cardiovascular system.
Non-communicable diseases are the leading causes of deaths globally and air pollution contributes significantly to NCDs such as cardiovascular diseases, respiratory diseases and lung cancer.
Cleaning up the air will help prevent NCDs, particularly among women and vulnerable groups such as children, those already ill and the elderly, Poonam Khetrapal Singh, regional director, WHO South-East Asia, said in a press release issued from Delhi on Tuesday.
The WHO recognises that air pollution is a critical risk factor for NCDs, causing an estimated one-quarter (24 percent) of all adult deaths from heart disease, 25 percent from stroke, 43 percent from chronic obstructive pulmonary disease and 29 percent from lung cancer.
According to the WHO, Dhaka is ranked as one of the top megacities in the South East Asian region where residents are exposed to pollutant air particulates.
More than 4,300 cities in 108 countries are now included in WHO's ambient air quality database, making this the world's most comprehensive database on ambient air pollution. Since 2016, more than 1,000 additional cities have been added to the database, which shows that more countries are measuring and taking action to reduce air pollution than ever before.
The WHO is the custodial agency for the Sustainable Development Goal Indicator to substantially reduce the number of deaths and illnesses from air pollution by 2030.
The distribution of the seven million deaths is largely uneven with the vast majority of the pollution-induced deaths being taking place on the poorer countries.
"Air pollution threatens us all, but the poorest and most marginalised people bear the brunt of the burden," Tedros Adhanom Ghebreyesus, director-general of WHO, said in a statement.
"It is unacceptable that over three billion people -- most of them women and children -- are still breathing deadly smoke every day from using polluting stoves and fuels in their homes. If we don't take urgent action on air pollution, we will never come close to achieving sustainable development."
More than 90 percent of air pollution-related deaths occur in low- and middle-income countries, mainly in Asia and Africa, followed by low- and middle-income countries of the Eastern Mediterranean region, Europe and the Americas, the WHO said.