95 children killed, 138 raped in 4 months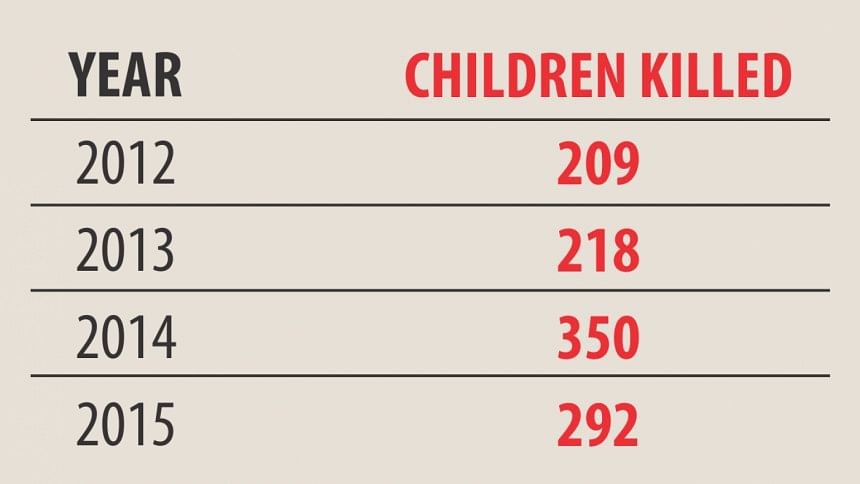 At least 95 children were killed and 138 minor girls raped from January to April this year, according to a report of Bangladesh Shishu Adhikar Forum (BSAF). 
The numbers of rape victims and those killed are up 14 percent and two percent from the same period last year. Apart from them, 60 children went missing during this period, said BSAF, a national network of 267 non-government organisations.
Kidnapping, human trafficking, sexual harassment and other violence against children have also increased, it observes.
Gang rape of children has increased by 350 percent and killing after rape by 42 percent in 2015 compared to the year before.
Of the children murdered this year, 10 were found dead after abduction and 23 others killed by their parents, said BSAF Director Abdus Shahid Mahmood at a press conference at Dhaka Reporters Unity.
The forum expressed grave concern over the killing of children by their parents.
In February, the murders of Nusrat Aman Aroni, 14, and her brother Alvi Aman, 6, allegedly by their mother in the capital's Banasree elicited a huge social outcry.
The brutal killings of 13-year-old Samiul Alam Rajon in Sylhet; 12-year-old Rakib in Khulna by inserting a high-pressure air pump nozzle into his rectum; and 10-year-old Rabiul for "stealing fish" in Barguna also drew huge criticism last year.
The child rights organisation praised the government for completing the speedy trial of the murders of Rajon and Rakib.
It, however, said crimes against children had not stopped, rather those were on the rise. The delay in the trial of such crimes has been blamed for the rising trend. 
BSAF Chairperson Emranul Huq Chowdhury and National Human Rights Commission member Kazi Rezaul Hoque criticised the government's inadequate action to ensure children's protection and urged for a separate child rights commission.