2 more 'drug dealers' killed in 'gunfights'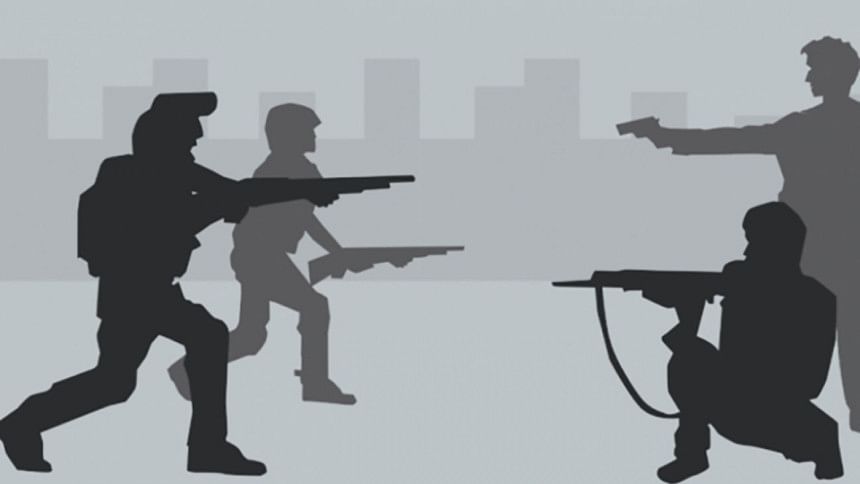 Two alleged drug traders were killed in what police claimed was a gunfight in Kalibari area in the town early yesterday amid the countrywide ongoing anti-narcotics drive.
The deceased were identified as Mohammad Rony, 30, son of Mamun Mia of Krishtapur, and Anwar Hossain Anar, 38, son of Siraj Ali of Akua Wireless area, of the town.
Family members however claimed Anwar was picked up by plainclothes police around a week ago and Rony had been traceless since Monday night.
With the latest incident, the number of deaths in the anti-drug drive has risen to 145 in last 29 days.
Like almost all the previous incidents of "gunfight", the police have issued a similar statement that contradicts the family members' version.
On information that drug peddlers were trading drugs in Kalibari, detectives raided the area around 1:45am yesterday, said Ashikur Rahman, officer-in-charge of Detective Branch (DB) of police in Mymensingh.
Sensing the presence of law enforcers, the drug traders first hurled brickbats at them. At one stage, they opened fire, prompting the detectives to return fire, claimed the OC who led the drive.
Soon after the "gunfight", the police found two bullet-hit "drug traders" who were in a critical state, he said, adding that the duo were taken to Mymensingh Medical College Hospital where doctors declared them dead.
The Daily Star could not independently verify the police claim.
The police also claimed to have recovered 1,750 pieces of Yaba, three used bullets and a revolver from the spot.
Anwar and Rony were accused in several cases related to narcotics, according to the police.
Fatema Begum, wife of Anwar, alleged that her husband was picked up by plainclothes police from their house in Akua area on June 6. He remained traceless since then, added Fatema, mother of two minors.
Anwar used to drive a battery-run auto-rickshaw but stopped it a month ago as his health deteriorated due to drugs intake, said Fatema, claiming her husband was never a drugs trader.
She said they had contacted Rab and police to trace her husband and filed a general diary with Kotwali police but finally found his bullet-hit body.
"Who will take the responsibility of my family?" asked Fatema, pointing at her seven-year-old son and three-year-old daughter.
Rony's wife Sultana Begum said her husband was called by two friends -- Nayan and Sajeeb -- over phone around 8:00pm on Monday and since then they had no contact with him.
Rony, a scrap vendor, was "falsely" implicated in a narcotics case six months ago and was out on bail, she added.
His mother Runu Begum claimed her son had no links with drugs and he might be killed for previous enmity.