10 members of fraud gang held
Nine of them foreigners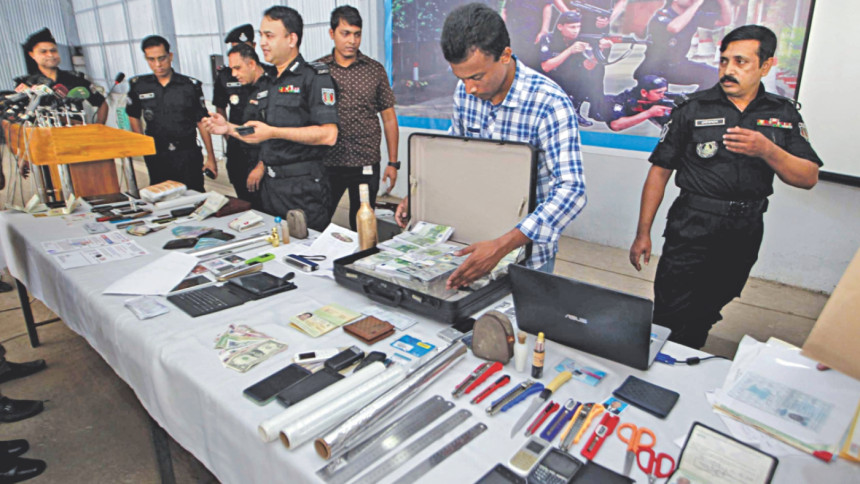 It's a unique style for a fraud gang to deceive people.    
The gang, most of its members are foreigners, first paste chemicals on dollars to make those black to hide the real information.
The gang tells its target people that those black papers are actually dollars. They have brought those to Bangladesh from abroad, dodging the vigilance of law enforcement agencies.
They then wash some black notes by using chemicals in front of the people to show that those notes are original dollars. When the people are convinced, the fraudsters sell other bundles of those black notes and chemicals to them, according to Rapid Action Battalion (Rab).
But when the buyers apply the same method later, they find only white papers, and in some cases, fake dollars.
The gang of deceivers was busted as Rab detained its 10 members, including nine African nationals, from the capital's Bashundhara Residential Area on Sunday night.
"The gang sold 22,000 dollar in exchange for Tk 10 lakh," said Lt Col Mohiuddin Ahmed, commanding officer of Rab-2, at a press briefing at its headquarters yesterday.
"They deceived a good number of people and smuggled the money, collected by cheating people, into their respective countries," he added.
"On receiving a complaint from a victim, a team of Rab-2 raided different flats and nabbed the 10 fraudsters along with fake dollars and dollar-making equipment and chemicals," the Rab official said.
Rab also recovered a video clip of the technique the gang used for showing their target people.
The foreigners told their target people that a huge amount of dollars remained unused in their countries, the Rab official added.  
Seven of the foreigners are Cameroon nationals while two others are from Congo. The rest is Bangladeshi.
Five of them failed to show their passports to law enforcement agencies while the visa of four others had expired long ago, said the Rab official.
Seven Cameroon citizens are Abdou Nassara, Jean Claude, Gonou Desire, Mimba Serges, Kambiwa Dieu Nedort, Moguem Solo and Tiadeu Barnard while two Congo nationals are Ngonga Diasonama Merlin, and Mutombo Nzail Yousouf. The Bangladeshi is Mare Moyna Poroi Taylor.
Apart from counterfeiting notes, the gang was also involved in drug trading. Rab also seized around 100 active SIM cards registered biometrically from their possession.
The special force, however, did not go into detail about the Bangladeshi's role in the criminal activities.  
HOW IT ATTRACTS PEOPLE
The gang members choose two ways to attract their target people.
Firstly, they lure the people, offering a huge amount of foreign currencies or making their business partner. Secondly, they offer them dollars at a cheap rate.    
Rab officials said some Bangladeshis were assisting the foreigners but could not mention their names.
As security was beefed up at the airport, many of the African nationals were entering the country illegally from the neighbouring countries, said Mohiuddin. 
Rab officials said deportation of the African nationals is very difficult as there is no embassy of many of the African countries in our country.