Righting The Grievous Wrong
Shahriar's confession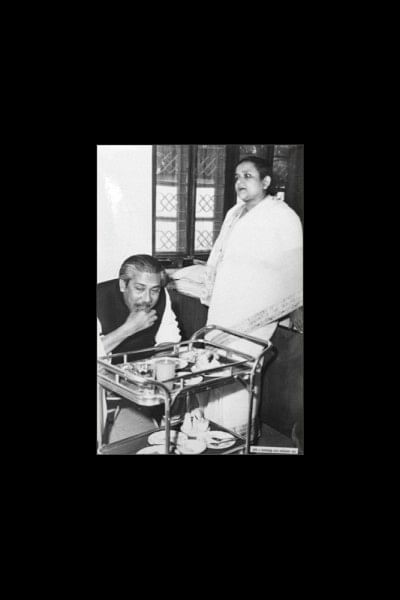 Lt Col (retd) Sultan Shahriar Rashid Khan gave his confessional statement about the killing of Bangabandhu before the court on December 11, 1996.
In brief the statement is -- While he was in Comilla in 1973 as the Chief Inspector, Army School of Physical Training, Major Shariful Haque Dalim, Captain Bazlul Huda and Major Aziz Pasha were posted at 1st Field Artillery Regiment at Comilla and from there on he became very close to them. During that time, following the harassment of Major Dalim's wife and some of his relatives in a family function at Dhaka, some of the officers and men of other ranks of Lancer unit and 2 Field Artillery Regiment of the Army attacked and ransacked the house of Gazi Golam Mostafa, an Awami League leader. Because of this incident, allegations of breach of discipline were brought against Major Dalim, Major Nur and some other army officers. Dalim expressed his regrets and went to the house of Bangabandhu and appealed for justice but could not get any. At the end of 1974, Major Dalim went to England for his treatment and returned home possibly in January 1975 and joined his earlier place of posting at Comilla. In the meantime, being frustrated, this accused (Shahriar) resigned from the Army and started a business of dealing in old TV and Refrigerators at Dhaka, in the name and style of 'Shery Enterprise'.
Meanwhile, Major Dalim, Nur and some other officers lost their jobs on the allegation of breach of discipline. One day Major Dalim came to his business office and lamented that it is a far cry to get any justice for freedom fighters like them, rather it was difficult for them to survive. Nobody would care about them even if they die on the road. He further said that on one hand Sheikh Mujib was brain washed and on the other, everybody surrounded him in such a way that he was not allowed to know the truth. This must be redressed. This accused (Shahriar) also added that these wrongs must be righted. At that time Major Dalim, Major Aziz Pasha and Captain Bazlul Huda used to visit the business centre of this accused (Shahriar) quite often and they used to criticise the activities of Awami League Government, Sheikh Mujib and other leaders.
In the meantime, Major Khandaker Abdur Rashid of 2 Field Artillery Regiment returned home after his training in India and again joined as its Commanding Officer. Major Dalim contacted him and updated him about these incidents and entreated him for his help to redress his grievance. He also promised co-operation in this respect. On 13th August, 1975 at about 10-30/11 at night Major Dalim and Major Nur went to the house of this accused (Shahriar) at the cantonment and took him to the house of Major Rashid. At one stage of their discussion Rashid told Dalim not to worry because Farooq would be with them.
He stated further that on August 14, 1975, afternoon while he was in his business office, Khandaker Abdur Rashid and Major Nur came in a car and took him to the residence of the then Minister Khandaker Moshtaque Ahmed at Aga Mosi Lane where they were received warmly. From there they went to a place near the Hotel Sheraton by a car and discussed the plans.
At night Major Farooq briefed the order group that had assembled in the tactical Head Quarters of his Regiment. There in the order groups, Major Mohiuddin of Lancer, Major Sharful Hossain, Major Firoj (Perhaps), Captain Sayed, Captain Shahid or Shahed, Lt. Nazmul Hossain, Lt. Kismat Hashem, Risaldar Moslehuddin and 8/10 others were present. He (Shahriar) heard how the deployment would be made at the last stage of the briefing. Farooq said it was to be from the parliament area, Asad Gate to Lake Circus, on the south of the residence of the President from Minto Road, residence of the Ministers and Shahbagh area, Airport area and Suhrawardy Garden area. After the briefing Farooq and Major Rashid talked privately. Then he (Shahriar) went with Major Rashid to his unit line. There he and Major Rashed Chowdhury were given the uniforms of Major Bazlul Huda and Major Aziz Pasha respectively. Major Dalim and Major Nur brought their own uniforms and they all put on their uniforms and stayed there for a while. At that time Major Rashid and the officers of his unit were not present there. The officers of other ranks and men were taking their preparations. Within half an hour, two groups of troops from Artillery were made ready. It consisted of about 80/90 men of different ranks. The group of about 15 men stood separately who took preparations for duty from the corner of Shahbagh to Radio Station. At that time Major Rashid returned and he (Shahriar) had a conversation with him and other officers. On the basis of activities there he said that all these preparations appeared to be of mutinous in nature or of an uprising but not like IS, duty, and to this Major Rashid replied that they should see what might happen. Thereafter, their duties were distributed. The area of Minto Road and the residential area of the ministers were assigned to Major Dalim, Major Rashed Chowdhury, Captain Mostafa and another officer.
Shahriar was given the charge of the Radio Station. The duty for the area from Asad Gate to Lake Circus area and the area of the residence of the President Sheikh Mujibur Rahman was given to Major Aziz Pasha, Major Bazlul Huda, and Major Nur.
The troops thereafter boarded six trucks according to their groups. Shahrair also boarded a truck.
Shahriar stated that according to the final plan they started at about 4 O'clock in the morning, he was armed with an SMG. At about 5 he reached the east side of the house of Abdur Rab Serniabat at Minto Road. There Major Rashed Chowdhury, Captain Mostafa and another officer were waiting with their group and Major Rashed Chowdhury was inside the boundary of the house. At that time sounds of gunshots were heard from the west side of the house and he rushed inside. From there he (Shahriar) went to the Radio Station. Then he went to the front of the Radio Station and saw that one Habildar was announcing on the radio speaker the declaration of Dalim. At that time one Nayek from Artillery informed him that three trucks full of Rakkhi Bahini force were approaching. Shahriar went out side the Radio Bhaban and disarmed them and sent them back. At about 6:30 in the morning he saw Major Dalim coming in a jeep fitted with SMG with some troops towards the Radio Station. He had an altercation with him over the announcement on the Radio and at that time Major Nur Chowdhury reached there in a jeep and tried to pacify him when he was about to leave.
However, on consideration of the entire circumstances he went inside the Radio Bhaban. Khandaker Moshtaque came there and at the main gate Shahriar, Major Dalim and Major Nur saluted him as per custom. He shook his hand with them. Shahriar and Major Rashid took Khandaker Moshtaque inside the Radio Bhaban. Then Rashid, Nur and Dalim went away. About 20 minute later, Taheruddin Thakur came to the Radio Station and on the instructions of Khandaker Moshtaque, Taheruddin Thakur drafted his address. Thereafter the address of Khandaker Moshtaque was recorded and on his direction Taheruddin Thakur also drafted the declarations of allegiance of Chiefs of the Forces. Sometimes later, the Chief of Staff of the Army and Deputy Chief of the Army came to the Radio Station followed by Chief of Air Force and Navy. Khandaker Moshtaque talked to them and thereafter they read the address of allegiance, which were transmitted on Radio. At about 10:30 to 11:00 Khandaker Moshtaque went to Bangabhaban and Shahriar went there at about 12:30 and then again returned to Radio Station a little later.
Khandaker Moshtaque took oath as President and the Cabinet was formed in the afternoon. At night Major Dalim showed him pictures of the dead bodies of Sheikh Mujib and his family members. Shahriar further stated in his confessional statement that in between August 17 and August 19, 1975, Khandaker Moshtaque Ahmed appointed General Osmany as his Defence Adviser and he appointed Shahriar as his Staff Officer. Thereafter, on August 24 or 25, Ziaur Rahman, was appointed Chief of Army Staff. Few days later a new post of Chief of Defence Staff was created and Major General Kholilur Rahman was appointed in that post and he was appointed his staff officer and accordingly he joined there.