SHOOTING SPOT
Aupee-Tauquir-Mahfuz join forces for "Kemon Acho"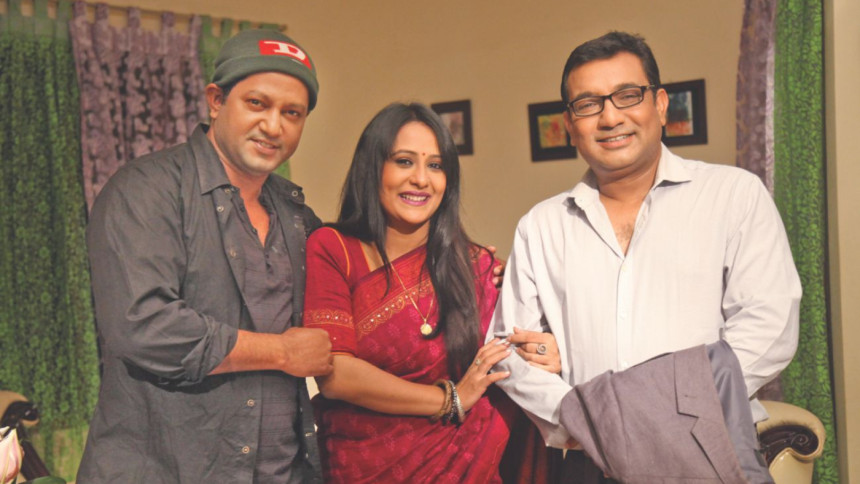 On the outskirts of Dhaka, in a residential building in Uttara called Nilanjana, Aupee Karim and Tauquir Ahmed remained focused on one another as this correspondent walked in late in the evening. As director Chayanika Chowdhury said "Action!", the duo effortlessly slipped into character for an emotional scene. After it was finalised in two takes, we followed the two actors into the makeup room to find out more about what they were up to. 
By then, Mahfuz Ahmed -- another small screen veteran, had arrived at the spot. In between changes of costume and makeup, Chayanika and the cast spoke about the single-episode TV project – "Kemon Acho", written by Rumman Rashid Khan. It is being made for the anniversary celebrations of ntv, and will be aired on July 3. 
Tauquir-Mahfuz-Aupee had last worked together in a TV play by Abul Hayat in 2004, but none of them could remember the name for it. Mahfuz and Aupee, the popular on-screen duo from the hit mega-serial "Ekannoborti" are working together after nine years. However, in "Kemon Acho", it is Tauquir and Aupee who portray married couple Asif and Joyeeta, while Mahfuz plays a character named Pial, who is Joyeeta's cousin. 
As the set was prepared downstairs for the next shot in about an hour's time, the actors had to get to work again, but not before they found time for a fun photo-shoot with The Daily Star.