Tamalika looks back on 25-year theatre career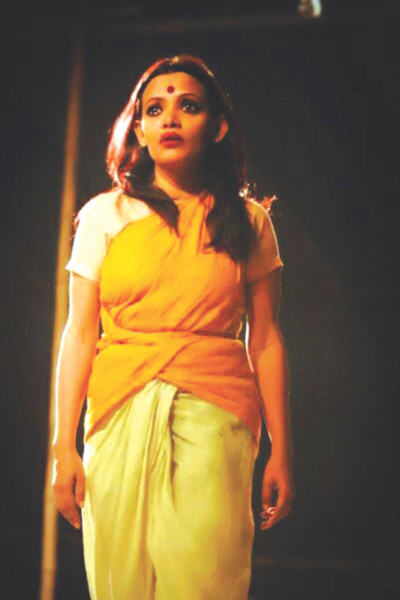 Once a popular face of the small screen, Tamalika Karmaker has been involved with the theatre troupe Aranyak Nattaydal for over two decades. Recently, she completed 25th anniversary of her theatre career. In a recent chit-chat with The Daily Star, the National Film Award winning actress talked about this long journey, and more. Excerpts:
"I started working with Aranyak Nattaydal in January 1992. Written and produced by Mamunur Rashid and Azizul Hakim, 'Pathor' was my first play. I still remember my nervousness while playing my character named Kazli on stage. Everyone praised my work then. 
"I came to the spotlight through the play, and I have not needed to look back. I want to stay with the troupe till my last days. After 'Pathor', I did the plays--'Khela Khela' and 'Iblish'--for my troupe. 'Iblish' became very popular. I still cannot forget the day when Aranyak Nattaydal staged the 40th show of the play.
"Slowly, I fell in love with stage plays. Later, I was a part of 'Prakritojon' and 'Joyjointhi' -- which was a great turning point of my theatre career.
"In my 25-year career, I have featured in almost all plays for Aranyak, except two productions. 'Mayur Singhashon' and 'Rarang' are two of the most remarkable works of my career. I also worked in 'The Jubilee Hotel', the latest production of Aranyak Nattaydal.
"There is an interesting story behind my involvement with Aranyak. As my mother was a member of the troupe, I went there to watch plays with her during my childhood, and became a member almost without even realizing. 
"Theatre is my passion, love and prayer. I could have earned more by acting in television if I ran after money. I sacrificed many TV plays for theatre. It is my first priority. 
"I have had so many memorable moments on stage. Once, we went to Delhi to stage 'Rarang'. I was the choreographer of the show. I was honoured for the activity there and it was a memorable occasion.  I was also honoured with Shibli Award by Dhaka Theatre. It was also a great achievement for me."