How justified is putting barriers on a work of art?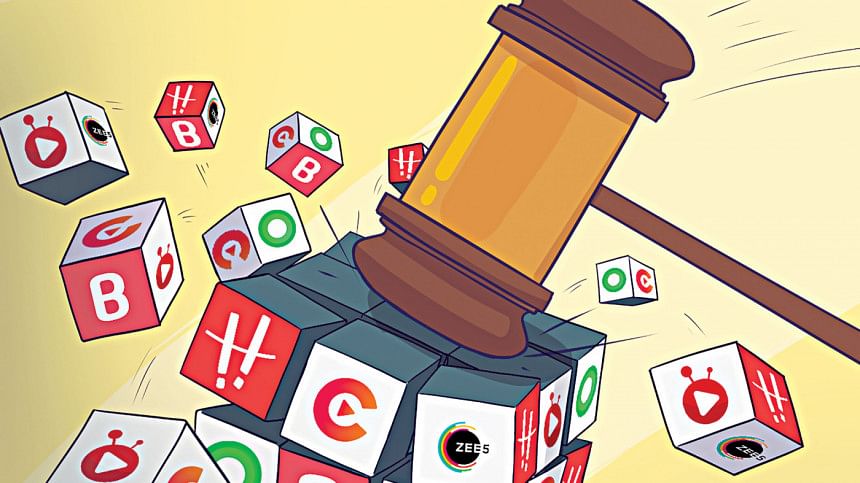 "What was inappropriate 50 years ago, has been normalised now. Thus, putting barriers will only create shields for the rulers. It will also cause troubles to the filmmakers and artistes, as these objectives are open-ended and it might provoke anybody to file a complaint."
Last October, a draft policy for protecting the culture and OTT was published by the Ministry of Information and Broadcasting.
After a few months, another policy was published by the BTRC, which was widely criticised by netizens due to some of the clauses in the draft, including social media surveillance.
The three proposed laws, regulations, and policies are the Data Protection Act, 2022 (The Data Protection Act), made by the Department of Information and Communication Technology; 'Regulation for Digital, Social Media and OTT Platforms' formulated by The Bangladesh Telecommunication Regulatory Commission (BTRC) and The Ministry of Information and Broadcasting Over the Top (OTT) Content-Based Service Delivery and Management Policy, 2021.
According to the authorities, the drafted regulations call for sovereignty and integrity of the country, state security, and friendly relations with foreign states or maintenance of public order. Besides, any content that degrades the spirit of the Liberation War, hurts religious sentiments, is detrimental to communal harmony, and anti-indigenous culture and social values have been brought under censorship. Though these changes are yet to be finalised, it is needless to say that debates have already started to surface in this regard.
We caught up with some noted filmmakers and executives of different local streaming platforms to analyse the problems this verdict might lead to in the future.
Redoan Rony, filmmaker and Chief Operating Officer of Chorki asserts how these regulations will be a drawback for a country that is aiming for digitalisation. "To me, it is very confusing that two different sectors implemented rules for OTT content," mentions Rony, who has not yet received any call or letter regarding the revision of the draft.
He further spoke about the proposed clauses in detail. "One of BTRC's points in this regard states production belonging to horror genre projects cannot terrify audiences, which is absurd," he states. "The policy states that a character cannot speak loudly to another character on the screen."
Alongside restricting the artistes and barring them from exercising their creativity, such strict rules and regulations will cease the growth of local OTT platforms. One point that Rony makes hits the bullseye. "These policies will only put restrictions on local platforms, as international streaming sites will not care," he says. "Thus, our audience will be taken over by foreign streaming platforms, affecting our economy."
Filmmaker Ashfaque Nipun, the founder of Packup Films, expressed how he is against imposing any kind of policy, particularly when it comes to artistic expression.
"Streaming platforms are personalised and there has been no imposition of rules on this medium worldwide," asserts the "Mohanagar" director. "Even internationally, film censor boards are becoming extinct and being replaced by film certification. This means that the audience is sensible enough to choose what they would like to watch, according to their age groups. Censorship only makes the maturity level of the viewers questionable."
Nipun looks back on the time when the OTT culture had just graced Bangladesh, highlighting the transition that has come along the way. "At the beginning, there were some bold projects made which were sexually explicit," he shares. "However, with time, audiences turned away from them, and projects like "Ladies & Gentlemen", "Mohanagar", "Taqdeer", "Unoloukik", and "Jaagobahey" captured their interest."
Much has changed with time when it comes to the preferences of audiences. While one might perceive a production to be sensitive, others might not feel the same way – and Nipun agrees with this point.
"Preferences vary from person to person so does the effect a production leaves behind in someone's mind after they watch it. Preferences are guided by likings, social conditions and existing structures that one lives in," he mentions.
"What was inappropriate 50 years ago, has been normalised now. Thus, putting barriers will only create shields for the rulers. It will also cause troubles to the filmmakers and artistes, as these objectives are open-ended and it might provoke anybody to file a complaint."
Nipun pledges to keep delivering stories in his narrative style.  "As a filmmaker, I will never stop expressing my point of view, no matter how strict the rules may be," he shares.
On the other hand, Sakib R Khan, Business Lead of Hoichoi Bangladesh believes that not much change will be brought about even if these rules and regulations are implemented. "Local platforms will not be hampered much, as they already maintain a certain level of decency while making a show,' he informs.
Nevertheless, he agrees with the point made by Rony that international streaming platforms are not being affected by this alteration. "These rules should also be applied to international streaming platforms when they wish to operate in Bangladesh since it will not be justified if there are segregated policies," he says.
He believes that only tying the hands of local streaming platforms will lead to a fall when it comes to the viewers' interest in local content.
While varying perceptions are coming forward about the new draft, the makers and artistes are still unsure of what is to come and when are the changes finally expected to surface. Nevertheless, as they wait for the new set of rules, OTT platforms are adamant on delivering quality content to their subscribers.