Kadambari: A retelling through dance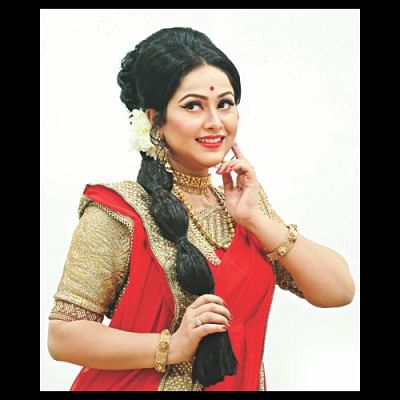 Before her identity as a popular actress, Nadia Ahmed's heart and feet were set to dance since early childhood. She has now balanced a career between both arts, and to celebrate the ninth day of Sharadiya Durga Puja, or nobomi, Nadia will step into the tragic shoes of Kadambari Devi, in a dance drama titled "Ami Kadambari." The performance will take place today at the capital's Banani Puja Mandap.
Stylised in the Rabindrik form, the drama is an arrangement of some of Tagore's songs, interspersed with dialogues to bring the story together. Choreographed by Likhon Rai, who plays the role of Jyotirindranath Tagore, assisted by Ivan Shahriar Shohag, the role of Rabindranath Tagore is donned by Rabbi. Biplob Saha, founder of Bishwo Rang, has directed the piece.
"Kadambari was a graceful figure, and she was not only an important muse in Tagore's works, but she was an influential critic who has made many contributions towards his writings," stated Nadia. "Her life was a tragic one; married very young to Jyotirindranath, she quickly bonded closely with Tagore, who was nearly her age. However, the intense relationship culminated into her suicide four months after Tagore's marriage. There are very few women in history that possess her grace and endurance, and I feel it is fitting for the festival."
In the acting realm, the artiste has recently wrapped up shooting for "Birombona," directed by A Jabir Russell and which began airing a couple of days ago, and "Shob Janta Shamsher" which is scheduled to air soon.