"I'm looking forward to stage shows"
…. Liza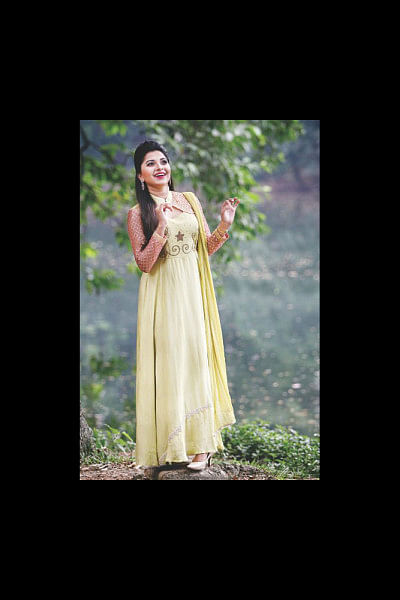 Sania Sultana Liza's path to stardom began since her crowning glory at Closeup 1 in 2008. Today marks a new chapter in the singer's life as she celebrates her birthday amidst a demanding schedule full of stage shows, and in a recent conversation with The Daily Star, the star opens up about her plans for the year ahead, and more.
Happy Birthday! Do you have anything planned today?
Thank you. I have to perform at a show in Savar tomorrow, so I haven't planned anything special. Winter is a ripe season for stage shows, and so I have a full schedule ahead this month.
What would be your birthday wish?
I have a small family; there's my parents and younger brother; and the people I perform with are akin to family as well. My only wish would be for all of us to get along for as long as we exist, without complications or hurt feelings.
What is your favourite weekend haunt?
That would be my bed. I am often on the road for work, and so during those rare moments of respite I don't feel like going anywhere.
What are you looking forward to right now?
I'm currently looking forward to stage shows, and more importantly, "Gohin Baluchor's" release on December 29 because I have done a song for the film. It was supposed to premiere two months ago, and so the anticipation has only grown stronger and more impatient. From February I will be touring outside Bangladesh: I have a show in Melbourne that month, and three more lined up in April where I'll be performing in Spain, Germany, and Switzerland. It has been a long time since I performed so extensively abroad, and so I am looking forward to it as one of the highlights for next year.
Your loved one is preparing a grand birthday feast for you. What would you like to see prepared?
I'd love to walk into a room filled with flowers- my favourite is the orchid, but I'm also fond of Arabian and night jasmines. I'm not a picky eater and I never had a favourite cake, but that probably changed on one of my trips to the USA when someone brought me a tres leches cake. It's incredibly indulgent and creamy, but also light and fresh at the same time when served with fruit. I don't know if I'd find it here, but I'd be very happy if I could.
What was the best thing to happen to you this past year?
The best thing would be when I released "Bhalobashi Bola Hoye Jaak" two months ago. I absolutely love the song.