"My mother helps me choose scripts"… Sabila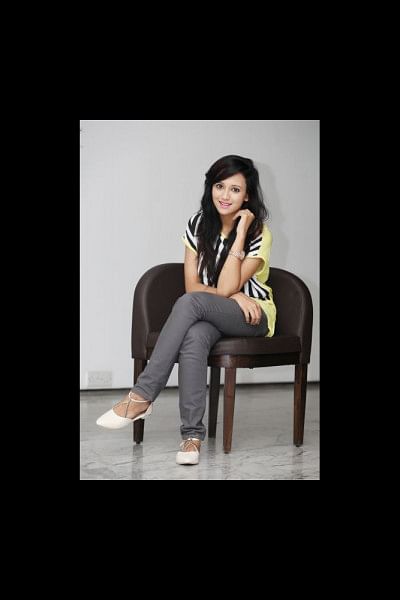 Sabila Nur is one of the few youngsters who are immensely popular among the younger generation. Starting her career as a model she has already made her name as a model-actress. A first semester student of BBA at North South University, Sabila has a strong base in classical dance. Recently she shared the stories behind her career and more with this correspondent. Excerpts:  
How did you step into this arena?  
Sabila: Initially I began as a model in a Grameenphone photo-shoot. After doing a number of shoots of GP, I did a number of TVCs, promoting brands ranging from hair oil to ice creams. Those TVCs brought me popularity as a model, but I never thought of acting then. I've practiced dance since my childhood, and my dreams were centering dance, as my mother used to motivate me.  
What was the breakthrough in your career?
Sabila: Last year director Redoan Rony called me for his tele-film "U-turn". I was overwhelmed to get an opportunity to work with a director like Redoan Rony. I played a drug-addict in the tele-film which brought me great appreciation. By that time I had received a number of offers for drama and tele- films. Later, I played a village girl in a television drama. Then I did the hugely popular tele-film "Monkey Business".
Tell us about your passion for dance...
Sabila: I learned dance at Bulbul Lalitkala Academy, and completed a certificate course in Kathak with first class first position in 2007. I don't practice dance nowadays, but during Eid I perform in special programmes. At times I feel that I am turning aside a well-learned art because of limited time. But dancing helps a lot in acting as I can utilise those expression while I am in front of the camera.
Dancing, modeling or acting—which medium do you favour?
Sabila: I like the transition from modelling to acting. Actually modelling does not allow me to show my real character in a 30-second TVC.  I love experimenting with different roles. There's no particular choice but I love roles that challenge me and allow me to experiment.
How do you usually choose a script?
Sabila: I always go for characters that are out of the box. When a script comes to me, I first read it and then show it to my mother. She reads the script and helps me choose scripts. My mother is very supportive, and when I played a village girl, I received a lot of support from my mother, my sister and our house help. Currently I am working in four television serials, and will start another soon. Also I'm hosting a show on Banglavision.
How do you balance your work and studies?
Sabila: My father is a little conservative, so I always have to balance my work and academics. It is difficult to balance them as they continuously clash. I usually go to shoot after finishing classes. It is hard but I like it.
Your achievements and aspirations?
Sabila: I have worked with many big directors, and they are very supportive. My favourite co-actors are Tausif Mahbub and Allen Shubhro. I think as an actress I should have the capability to adapt to any situation and any character. I want to do quality works with good directors.