Happy Birthday, Khan Ata!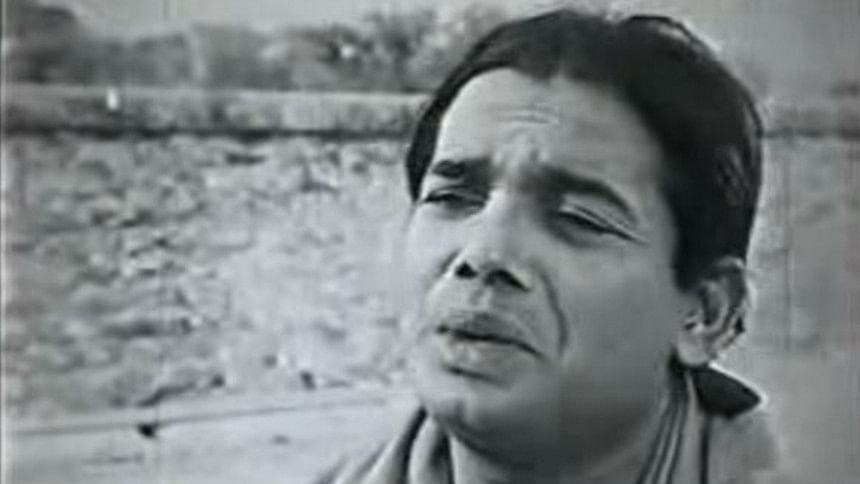 Khan Ataur Rahman, famously known as Khan Ata is an important name in the history of Bangladeshi films. This bohemian film director, actor, producer, screenplay writer, music composer and singer was born on this very day in the year of 1928 in Ramkantapur village of Singair thana of Manikganj district.
Khan Ata had a passion for cinema from the very beginning. He ran away twice from home to join the film industry.
He became renowned for his role in the film Jibon Theke Neya (1970), a film by the famous Bangalee film maker Zahir Raihan. In this film, his rendition of the song "E Khancha Bhangbo Ami Kemon Kore" echoed the national psyche foretelling the Liberation War of Bangladesh.
In 1950, Khan Ataur Rahman went to Karachi and took a job as a News Presenter. Here he met with another notable Bengali media personality, Fateh Lohani. At this time, Khan Ata started taking music lessons from renowned Pakistani Sarnagi player Jawahari Khan. After some days Khan Ata went to London. There he performed as a singer and actor in several Bengali programs. He met with artist SM Sultan and helped him with his savings to buy art supplies. Rahman and his companions also made arrangements for displaying and selling Sultan's paintings.
In 1953 Rahman enrolled in the Theatre department at City Literary Institute. In 1954, Ataur Rahman was awarded UNESCO Fellowship for a study tour in the Netherlands. On his return to England he joined a college as an instructor. Simultaneously, he worked in different theatre companies for about two years. He returned from London to Dhaka in 1956. That year he acted in the film Jago Hua Sabera made by AJ Kardar. He played the main role in the film and Tripti Mitra, a noted Indian actress acted in the lead female role.In 1963 he made his directorial debut with the film Onek Diner Chena, and continued making many notable films like Nawab Sirajuddaula (1967), Saat Vai Champa (1968), Arun Barun Kironmala (1968), Abar Tora Manush Ho (1973), Sujon Sokhi (1976), Ekhono Onek Raat (1997).
Khan Ataur Rahman was a reputed singer and composer of music. He composed more than 500 songs, many of which became highly entertaining. He introduced some new trends in lyrics and the style of composition of songs.
When he was in London, he met an Englishwoman named Shirley and got married.On their return to Bangladesh and after having a child, they got divorced. Shirly returned to London with the child. Then Khan Ata married Mahabuba Hasnat after meeting in a radio station. They had a daughter named Rumana Islam, who later became a famous Bangladeshi singer. In 1968, Khan Ata married Nilufar Yasmin, a Bangladeshi singer, specially known for Nazrul sangeet. They had a boy from this family, named Agun, who is another notable Bangladeshi singer.

This multi-talented film personnel received nine awards in recognition of his contribution to the industry. These include Pakistan Film Festival Award, Nigar Award, international film festival awards at Moscow and Tashkent, and the National Film Award of Bangladesh.

Khan Ataur Rahman died on 1 January 1997. He can be considered as one of the few contributors in the foundation of Bangladeshi film industry. We remember this pride of our nation on his 87th birth anniversary.
*Information taken from various sources including Wikipedia.