154th birth anniversary of Rabindranath Tagore
Shahzadpur Kachharibari wears a festive look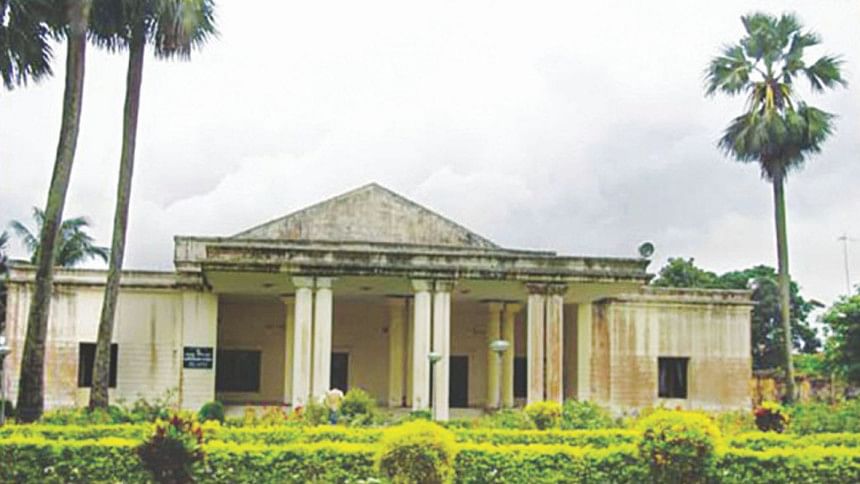 Shahzadpur Kachharibari, located at Shahzadpur upazila of Sirajganj district, wears a festive look ahead of the Prime Minister's visit today (May 8). The Prime Minister is likely to inaugurate a three-day festival marking the 154th birth anniversary of Nobel Laureate poet Kabiguru Rabindranath Tagore.
Even as the museum is being embellished ahead of the Prime Minister's visit, there are glitches. "Cracks were found on the roof of the ground floor of the museum. The recent earthquake widened the cracks so visitors are strictly prohibited from visiting the first floor of the two storied museum." Halima Afroze, custodian of Shahzadpur Kachharibari told The Daily Star. 
"The long cherished demand of the people has come true as the Prime Minister will inaugurate the university here in Shahzadpur officially," said Nasim Uddin Malitha, a Tagore researcher.
Tagore's grandfather Prince Dwarkanath had bought the estate in Shahzadpur from Zamindar Rani Bhabani of Natore in 1840, long before the poet's birth. The poet was given the responsibility to look after the estate so he visited Shahzadpur several times over. His last visit to Shahzadpur was in 1901.
Tagore had a deep love for Shahzadpur. "Here (Shahzadpur) I am more inspired to write than anywhere else," Tagore wrote in a letter to his niece Indira Debi. 
The Shahzadpur Kachharibari museum has lost much of Tagore memorabilia but there still remain such reminders of the poet like his couch, chairs, tables, mirror, piano and palanquin. 
The museum also houses 20 rare paintings of Tagore. The paintings "Tree", "Nature" "Women" reveal the poet's aesthetic affinity, Kachharibari officials said. Around 3,000  precious books are kept in the museum.
Tagore wrote part of his play "Bishorjon", "Sonar Tori", "Chitra", "Chaitali", "Golapguchchho", "Chhinnapatra", "Panchabhooter Diary" and "Meyeli Chhara" in Shahzadpur.