Scholastica students perform 'Muktadhara'
40 years at the frontline of education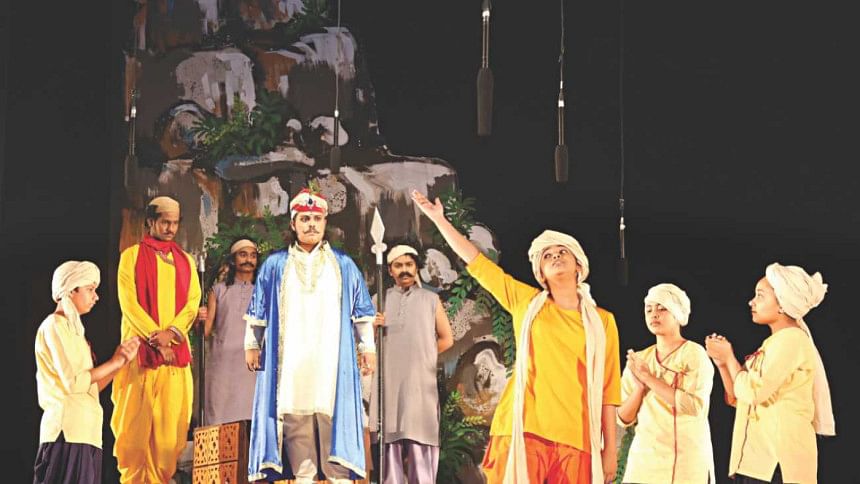 Scholastica, a well-known school in Dhaka, celebrated its 40th year of educational excellence with a three-day performance of the play "Muktodhara" at their senior section premises in Mirpur.
The concluding performance was held on March 5. To a warm welcome from the senior vice principal, Farah Sophia Ahmed, the closing performance was announced. The occasion was graced by distinguished guests, among whom poet and noted academic Professor Kaiser Haq was present as chief guest.
On Friday, the inaugural day, Minister of Cultural Affairs Asaduzzaman Noor lauded Scholastica in his speech as one of the finest educational institutions of the country, and commended the involvement of their students in various cultural activities, which he emphasised as a crucial requirement in making for a well rounded individual.
On the second day of the performance, noted author and academic Syed Manzoorul Islam attended as chief guest. 
Written by Rabindranath Tagore, "Muktodhara" is considered his finest work, describing the plight of the people from the imaginary kingdom "Chitrakoot" and their subsequent resistance. The play was orchestrated by the teachers of Scholastica. Participating students were Shamsur Shafi Noor-e- Aziz, Tasnia Setar, Shreyoshee Shehreen Sattar, Mahir Daiyyan, Tanzidur Rahman and Mominul Amin and students of seventh, eighth and ninth grades.