Nazrul's tryst with Bengali theatre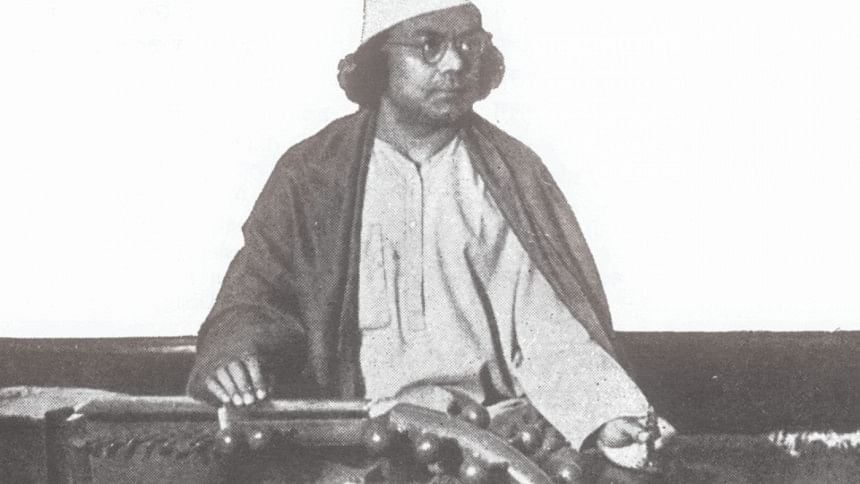 Draped in his favourite 'gerua' khaddar panjabi, a bright yellow silk turban wrapped around his head and a row of beads around his neck, Nazrul was often seen frequenting the theatre where he was constantly sought-after by the directors. Apart from writing and composing songs for theatre he took deep interest in acting as well. As chief trainer of The Gramophone Company of India, Kazi Nazrul Islam occupied a very important place in the music arena as leading artistes trained under him. This was in the year 1932 and he was hardly 33.
It was the theatre companies of Bengal that profited most during this time as audience flocked to listen to the newly composed songs by Nazrul.
The songs appealed to the theatre lovers as they were often based on romanticism and human emotions, as opposed to the religious hymns that were composed mostly for a particular niche of the society.
Bengali theatre is indebted to Nazrul for his compositions, which popularised Bengali music amongst a broader audience. His songs inevitably added to the quality of plays that were staged and more often than not, contributed to their success.
Nazrul composed songs for plays including "Jahangir" and "Annyapurna" by Monilal Gangopadhyay; "Siraj-ud-Dowla", "Jhorer Porey" and "Jononi" by Shachindranath Sen Gupta; "Mohua", "Karagar" and "Shoti O Shabitri" by Monmoth Roy; "Shymolir Swapno" by Probodh Kumar Sannyal; "Blackout" by Birendra Krishna Bhadra and more.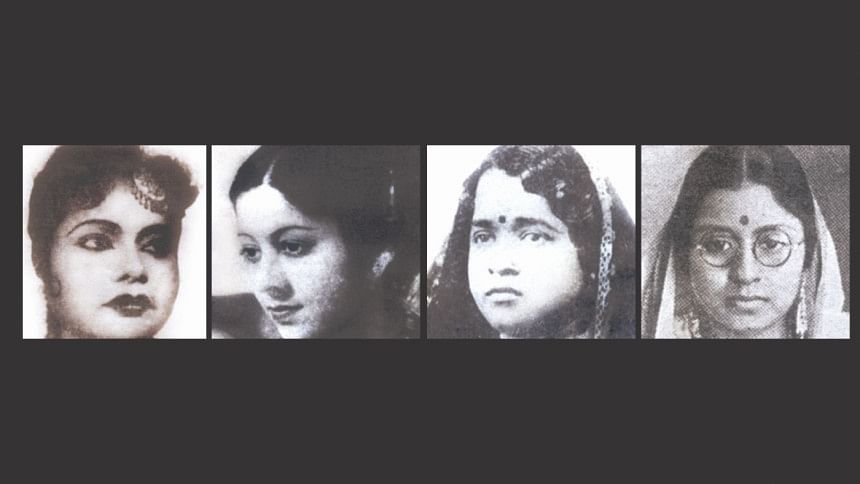 In her memoirs, legendary singer-actress Indubala recalls the heyday of her career: "Nothing could deviate Kazida (Nazrul) from his world of creativity even if it was in the crowded rehearsal rooms. He would train the artistes one after another, each with different compositions that suited him/her best. We watched in awe at how he could alienate himself from the entire crowd and concentrate in writing or composing songs that ranged from Kirtan to adhunik, light classical, ghazal and more."
Indubala adds that Nazrul was deeply involved with the Monomohon Theatre. The diva herself had joined the Theatre Company. "Kazida composed songs for the play Jahangir for which the audience showered me with heartfelt appreciation.
"Sometime later it was decided that Roktokomol by Sachindranath Sengupta would be staged. Kazida wanted me to perform the lead role in the play. Four new songs Phagun raater phuler nesha, Keu bholey na keu bholey, Bhanga mon aar jora nahi jaye and Ghor timirey — were composed by him and I sang them before every act."
"Responding to the ovation I had to repeat each song at least 5 to 6 times, as that was the trend in theatre in those days. There was no way out but to perform with every encore till the audience was totally content," Indubala says.
The minstrel also mentions an anecdote behind the play Aleya. The proprietors of Monomohon Theatre had requested Nazrul to work on a new play. A week had passed and Nazrul paid little heed to finish the play. The organisers were enraged. "Is he a Kazi or paji? He has already gone through betel leaf and zarda worth Tk 100 (a handsome amount in those days) and there is no sign of a new play yet," they alleged.
They soon worked out a plan and accordingly locked Nazrul in a room. Food, betel leaf and zarda were supplied to the room for the next few days, and miraculously Nazrul had penned an astonishing 22 new songs for the play! Aleya saw the light of the day and the songs played a vital role for its success.
Angurbala, another virtuoso singer-actress on stage was attached to the Minerva Studio. She had recorded around 300 songs for the Gramophone Company out of which 50 were written and composed by Nazrul.
Angurbala writes in her memoirs, "I was a regular performer at the company. Sometime around 1928, Nazrul joined the company as an exclusive trainer. We waited impatiently to meet him. We thought that he would be a bearded fellow dressed up in an alkhella. We were relieved to see a person who was like a friend to us all and we referred to him as Kazida."
In Sachindranath Sengupta's play, Roktokomol, noted theatre actress Sarju Devi performed in the role of Momota. The actress reminisces, "I had been a great admirer of popular Nazrul songs such as Rumjhum jhum jhum, Shukno patar nupur paye and more. But to perform his compositions in plays were totally an out of the world experience for me. Donning the lead role was not tough but to sing five different Nazrul compositions was quite a challenge!
"After repeated assurance from Probodh Guha (proprietor), we finally made it to the rehearsal room where Nazrul was seated. Suspecting my nervousness, Nazrul began talking to me on different subjects until my inhibitions died down and I started to hum a few compositions with him. His constant encouragement put me at ease. Within the next couple of hours five new songs were composed and before long I was ready for the stage."
Noted director Birendra Krishna Bhadra in his memoirs writes about staging Nazrul's musical Modhumala: "After we initiated a new theatre company Natyabharati, unexpectedly a few stars left for Mumbai and we stumbled on difficult times. Although noted actors Johar Ganguli, Santosh Singha and Sabitri Devi were there, the absence of star actor Ahindra Chowdhury put the company in quandary.
"It was then that Nazrul came up with his musical which had little need for stars but demanded two proficient singers. Initially senior actors opposed to the idea but Godadhar Mallik, a successful director and proprietor of the company, wholeheartedly embraced the idea of staging a full-fledged musical. Such productions were long absent in the theatre arena of Bengal.
"In the evening, Nazrul was escorted to the new theatre company. The master set designer, Nanu Babu, worked on the set while actors and dancers rehearsed with new determination. Nazrul worked relentlessly for seven days, with little time to spare. A record number of 22 songs were performed in which eminent artistes Radharani and Harimoti did cameos. The musical was a roaring success."
According to Birendra Krishna, in those days Nazrul songs had a tremendous influence in popularising theatre.
Kazi Nazrul Islam had selflessly served the Bengali theatre and took it to great heights, seldom seen since.
Source: Nazrulgeeti Proshongo by Korunamaya Goswami