Shilpacharya's birth anniversary celebrated in Mymensingh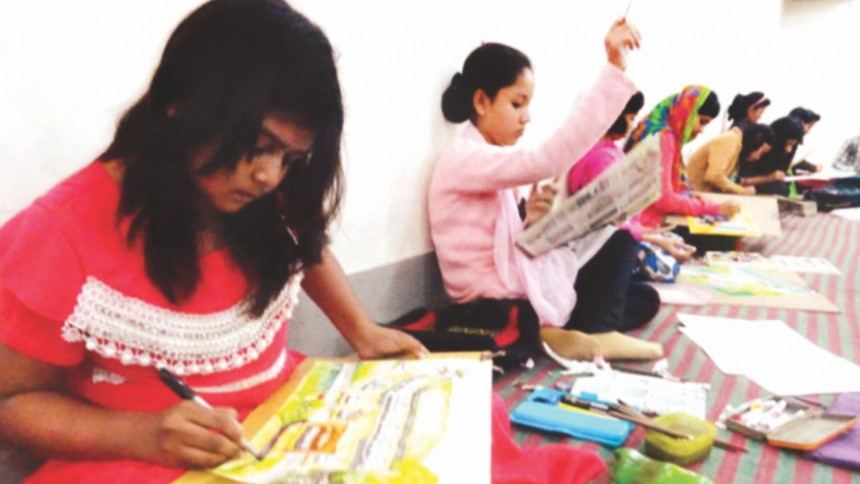 Children sketched the life and works of Shilpacharya Zainul Abedin, marking the 101st birth anniversary celebrations of the master painter, at Shilpacharya Zainul Abedin Sangrahashala (art gallery) on Friday.
The art gallery, with support from Bangladesh National Museum, organised the programme.
Zainul Abedin was born on December 29, 1914 in Mymensingh, and studied at Mymensingh Mritunjoy School.
The students of Zainul Shishu Charupith, an art school named after the master artist, took part in the competition in five groups.
Dr Bijoy Krishna Banik, deputy keeper of the art gallery inaugurated the competition as chief guest. Teachers of Charupath Badal Chakraborty, Neel Komol Roy and Didarul Hossain Limon were present at the inaugural session, among others.
Urging young talents to be devoted to Shilpacharya and to follow his ideals and patriotic spirit, the speakers said Shilpacharya was the pioneer of the Bangladeshi modern art movement.
Shilpacharya used art to express his views on a range of subjects, focusing primarily on scenes of rural Bangladesh, as well as the Bengal famine of 1943 and War of Liberation of 1971, encouraging people to fight against oppression, repression and deprivation, said speakers.
The master painter also worked tirelessly to encourage folk art in Bangladesh, they added.
The speakers also discussed how Zainul helped to found the Government Institute of Arts and Crafts, now the Faculty of Fine Arts under Dhaka University.