ARNOB<br>MORE THAN A MUSICIAN
ARNOB<br>MORE THAN A MUSICIAN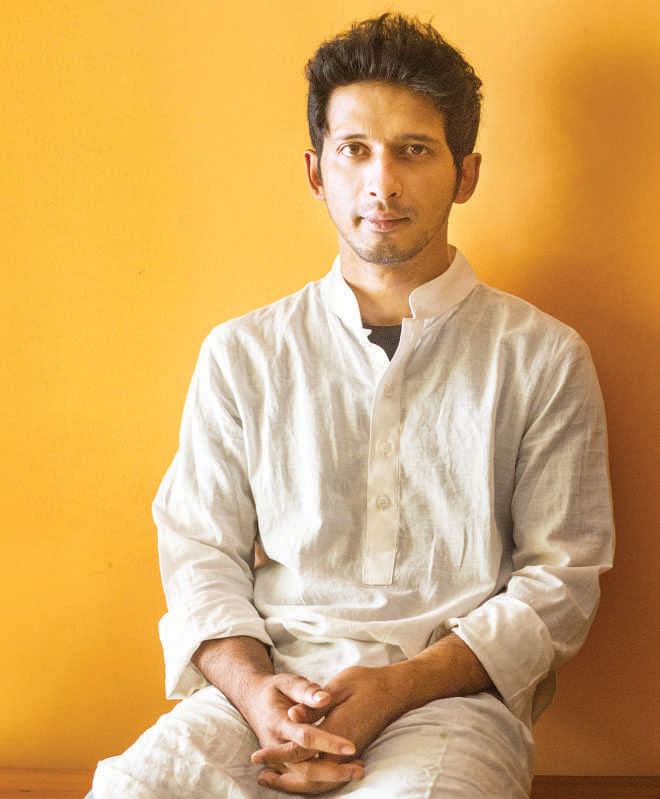 How many people can say that they've spent all their schooling days in Rabindra Bharati ­– from early primary school days to Masters? It was a surprise to me to learn that Arnob, one of the most talented musicians of our generation, studied fine arts at Rabindra Bharati. Study what you may – music comes as part of the deal if you are growing up where Rabindranath was born. So, our Arnob, now an international artist, was surrounded by art and culture all his life. He is an artist, a vocalist, and instrumentalist and a self-proclaimed gadget freak. Pretty soon, he could be a film maker too. He loves playing instruments, and the Esraj is his favourite. He is also an adrenaline junkie who loves playing soccer, writing movie scripts and climbing buildings! It was quite a treat to visit his home and his cozy studio and speak to the man behind so many talents. Never for a moment did I feel like I was talking to a celebrity, he looked at me and spoke to me without an iota of flamboyance, he felt like the dude I knew from next door.
Days after Vishya Bharati
After completing my masters, I worked as a visualizer and a creative director. As you all know, Anusheh came to visit Vishya Bharati and we formed the band Bangla and we performed at Kolkata. So, when I retuned to Bangladesh, the band got together and we started getting recognized. Also, during the same time, I started getting offers to do music for TV serials and TVCs. By then, I realized that I am being recognized more as a musician than an artist. Gradually, music became my profession. It wasn't that I didn't like my job as an artist, but because I learned music at school and I was recognized for it, it was satisfying. To be honest, I never thought I would take music as a profession! Even at school, I was the worst in music.
The musical confidence
I always liked playing instruments and writing songs ­– not singing. I am still shy being in the spotlight of a singer. But, I remember, when I was in class ten, I performed a baul song and won the first prize, which made me rethink about being a vocalist. Also, when I heard others playing to my written songs, it felt like something was missing. I slowly warmed up to being a vocalist, and the confidence mostly came from the feedback I received from listeners.   
 
The pressure of a vocalist
I think every vocalist has the extra burden of entertaining the audience. I think entertaining the audience is an art and I appreciate it but I think I am not good at it. If someone is true to music it really doesn't matter whether you need that extra bit to entertain, because music is first and foremost an audio medium. The visual parts come later. If one can relate to the music, if it touches someone emotionally, then there is nothing else to it. To me, music is not music if it can't stir one's memory or most importantly, if can't take one on a journey and evoke some unknown emotions within. There is a difference between a craftsman and an artist. It applies to music – a craftsman can only play flat music but as an artist can make you fly.
Purity of music
The bauls I have worked with are one of the most liberal people I have met in my life. I have made many fusions with baul and western but never found a single baul complaining. They want their music to spread in various forms and variety. Baul music has very open-ended structure. The same song can be sung by different bauls in completely different styles. When it comes to Rabindra Sangeet, grammar and structure is very important. I am lucky that I have a strong background in Rabindra Sangeet. Even today, while singing Rabindra Sangeet, if I make any mistake the grim faces of my schools teachers flash before my eyes. But, the way you perform or the background instrument you use can be changed. I have sung Rabindra Sangeet in both Dhaka and Kolkata standing with a guitar, which is not how Rabindra Sangeet is supposed to be sung. But I have received appreciation because I didn't break the purity of the song, I just adapted the style and the instrument. The words are very deep, so the young generation may not fully be able to appreciate the lyrics but they can relate to the music though the guitar. So I am penetrating the audience at least in some form.   
Circle of music
Everything repeats itself. Taste of music too repeats like the tide. Only one thing that is steady is love for the creator. Most of our traditional culture is based on the eternal love of the creator. It moves in a cyclic order. At one point, we see things in our way – that is to see everything in a micro lens again to see everything in larger lens. It keeps repeating and music does too. So when we are young, everything revolves around us. And as we grow up we begin to see things to be part of a bigger picture. For me, my music and thinking also has evolved. The same way society too evolves and rotates. I have been making music for myself and the people around me. Now, I am trying to bring more elements in my music. I am trying to see the bigger picture. I am trying to bring the best elements from different parts of the world and engage international audiences into my music. I want to enrich our music. Even Rabindranath didn't hesitate to borrow the best elements from other cultures.
 
Baul music is a lifestyle
Recently, I have stopped doing baul songs because I feel I like I cant justify doing baul music anymore. Baul music is not merely a genre, it is a lifestyle too. And I feel like I really can never truly understand Baul music because I can't live as a baul does. I cannot follow the lifestyle. It has to be felt and lived. Like a pure baul does, that is the only way I can elevate myself to a level where bauls are. Truly, it really feels good to feel that I am a baul but I will always be a few steps behind. I am city guy who can't stand too much heat, can't be without my gadgets… how can I really feel and think like a baul? In my heart I will always be close to the world of bauls and will also love baul songs, but I must admit that I am not a baul myself.
Into film making
It has been a while that I am thinking of getting into filmmaking. I have a script, which I have already sketched out on a storyboard. I am not saying I am going to jump into it tomorrow! But if everything goes smoothly you may find me making movies. That would be fun! I am an artist by education, musician by profession and a filmmaker by passion.