Another Rangpur arson victim dies
Another Rangpur arson victim dies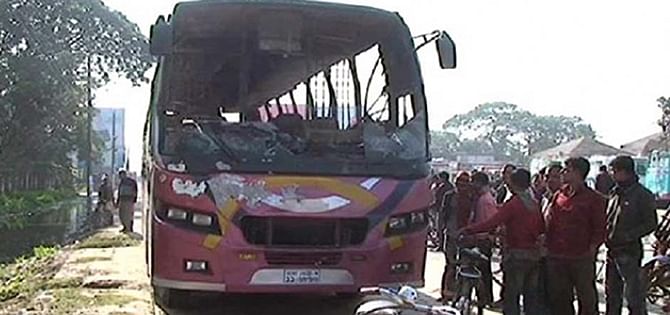 A woman, who was burnt in a petrol bomb attack in Rangpur on January 14, died at Dhaka Combined Military Hospital (CMH) early today.
With this, six people were killed from the petrol bomb attack on a bus by alleged blockaders at Jaigirhat in Mithapukur upazila of Rangpur on the ninth day of the BNP-led alliance's countrywide nonstop blockade.
Monwara Begum, 35, who suffered 63 percent burn injuries, succumbed around 3:00am today, said Golam Rabbani, nephew of the deceased.
Her body was sent to Dhaka Medical College and Hospital for autopsy.
Two daughters of the victim – Nusrat and Nadia – also suffered 21 and 10 percent respectively during the arson attack and are receiving treatment at the CMH.