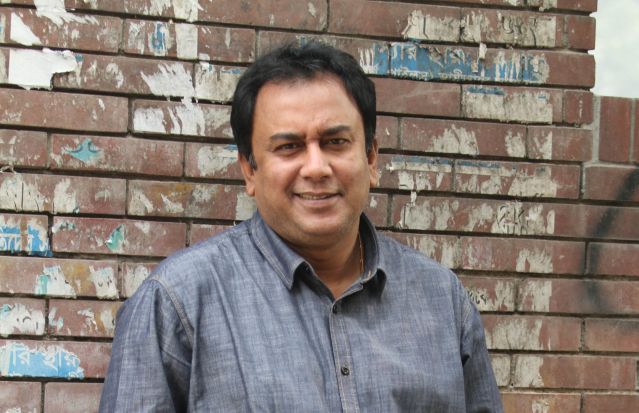 Photo: Atl Aakash
Veteran actor Zahid Hasan's popularity on the television screen has never faded by any means throughout his career, with many even dubbing him the biggest name on TV since the '90s. His work for the silver screen has also brought him much recognition, along with a National Film award. Also a director, Zahid Hasan is currently busy behind the lens for the ATN Bangla serial "Toto Company". The Daily Star recently interviewed him on his ongoing project.
How many episodes will "Toto Company" have?
Zahid Hasan: My target is to continue the story for 104 episodes. The rest is up to the audience. If they want, it can be extended.
You are also acting in the serial?
Zahid Hasan: Yes. The plot is set in a rural area, and I play a journalist. It is through playing this role that I have really appreciated how hard the job of a journalist is.
Is there any surprise in store for the viewers of "Toto Company"?
Zahid Hasan: Definitely. Many more stars will join the cast soon. The story will get more variation and new characters will be added. As a director, I always keep in mind what the audience wants. There will be some intertesting developments in the coming episodes.
You are also working in the drama "Great Mistake"?
Zahid Hasan: Channel 24 is airing the play, directed by Ali Imran. It's a long serial, but each episode is not as long as other serials. Every one- hour episode gives the audience fresh stories.
Tell us about your character in "Great Mistake"?
Zahid Hasan: Mir Sabbir and I play the lead roles of uncle and nephew in the comedy. My character is Tera Bachchu, while Mir Sabbir plays the role of Tabij Munna. In the drama, we always do things with good intentions, but turn up making great mistakes while doing them.
Any new serial in the pippeline?
Zahid Hasan: I'm working on a new serial called "Agun Khela", as well as playing the title role in "Nojirbihin Nojor Ali".
Banglavision has started airing your new drama "Korta-kahini". Tell us about that.
Zahid Hasan: It's been directed by Arannya Anwar. I play three characters in the drama. Its challenging enough for an actor to play a single role; portraying three characters at once is a greater challenge.
After proving your talents as an actor and a director, what are your next targets?
Zahid Hasan: I feel more passionate about acting; direction is more like an interest. I want to keep on acting till my last breath. I hope to do some work that will immortalise me in the memories of the audience.
Are there plans to make a movie based on the "Arman Bhai" dramas?
Zahid Hasan: All I know is that such a plan was on the books. Even if a film is made now, I will not be willing to work on it at the moment. The series has been a favourite with the TV audience. It should stay like this for a while.
What bothers you most?
Zahid Hasan: My son Zarif Zahid turned eight. It feels good to see him grow up, but it saddens me to witness the pressure of his studies. I spent a fun childhood, playing games and studying at the same time. But my son and other kids of his age are being denied all the joys of childhood. All they do is study and study. It really bothers me.