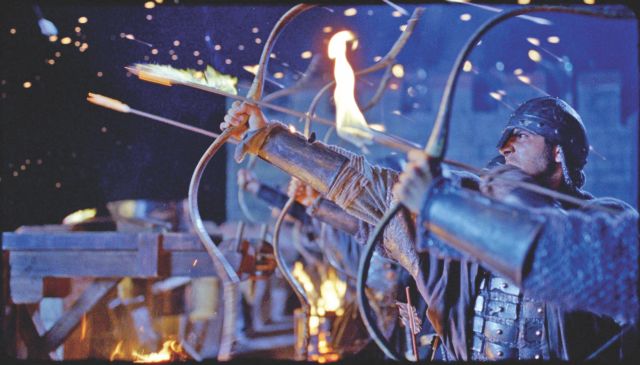 Brilliant visuals of warfare make "Fetih 1453" a good watch.
Historical films are special and tricky for the same reasons; people have already read the plot, and many also connect to it even before watching the pictures on the silver screen. Attempting to make a commercial film based on a crucial chapter of history can be a difficult job, but Turkish director Faruk Aksoy has done a commendable job with "Fetih 1453", dubbed as "The Battle of 2 Empires".
It was a new experience for film buffs of Dhaka as well, to get a taste of an "epic" film -- as Star Cineplex chairman Mahbubur Rahman coined it. Speaking at the premiere of the film on Tuesday evening, Mahbubur Rahman further said that their target is to bring more audiences to the cinema halls, and providing variation is an important task in achieving that target. The highest-budget film of Turkey has done very well in local as well as European markets, he said, expressing hopes that the ardent film-lovers will certainly find it entertaining.
The film is about the epic battle of Constantinople (today's Istanbul), zooming in on the conquest of Sultan Mehmed II to capture the seemingly invincible Constantinople, battling against the Byzantines.
The film in itself does reasonably well overall; the cinematography is stunning, the visual effects and dynamics are vivid, and the action direction is spectacular. The sequences of the war are very well-shot, and the attention to detail is remarkable. The cast, all Turkish, have also done a commendable job. But the highlight of the film is probably the calming closing sequence that carries a beautiful message. On the downside, however, the intricate storyline can have an inattentive audience lost in the plot, especially since it is a rather lengthy movie (150 minutes). The dubbing, done in heavily American-accented English, also sort of diminishes the flavour of the film.
All in all, for people who enjoy larger-than-life action, have a tinge of interest in history, and are always hungry for new genres of films, this film is well worth the time and money.