Tofu or Paneer with
Thai Coconut
Peanut Sauces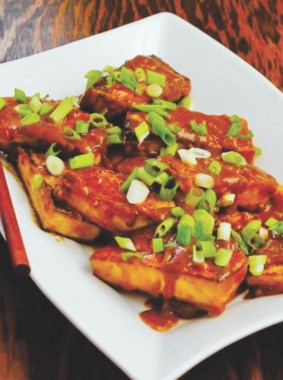 Ingredients
1 block firm tofu (350g)
3 cloves garlic, minced
2 tsp ground cumin
1 tsp ground pepper
¼ cup + 1 tbsp peanut or canola oil, divided
1 tbsp fresh ginger root, finely chopped/grated
1 shallot, finely chopped
1 tsp red chilli flakes
Peanut butter as required
½ cup coconut milk
1 lime, juiced
1+1/2 tbsp soya sauce
1 tsp red Thai curry paste (optional - make sure it's vegan)
¼ cup fresh coriander (cilantro) leaves, roughly chopped
Chopped fresh ground peanuts (optional for serving)
Method
If you plan on serving with rice, start cooking it as per package instructions.
Cut the tofu into 1 inch rectangles or triangles.
In a flat dish, mix the oil, garlic, cumin and pepper. Add the tofu and gently toss to distribute mixture evenly. Refrigerate for 30 minutes.
Heat 1 tablespoon oil in a small saucepan over low heat. Add the ginger, shallot and chilli flakes and saute for a few minutes. Add peanut butter, coconut milk, lime juice, soy sauce, and red Thai curry paste. Simmer for 10-15 minutes, stirring occasionally to prevent sticking. If the sauce is too thick, feel free to add a couple tablespoons of water.
If you're serving with vegetables, begin cooking them at this point.
Add the tofu mixture to a frying pan and sauté over medium-low heat until browned on both sides.
Divide the tofu and serve it over the rice and/or vegetables and drizzle the sauce on top of each dish. Sprinkle with the fresh coriander (cilantro) and serve with fresh ground peanuts, if desired.