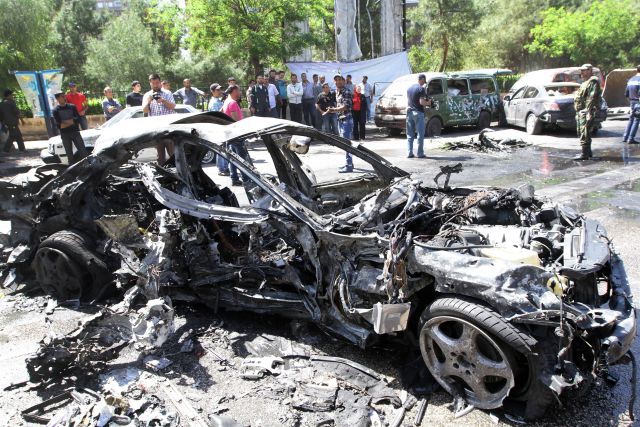 People gather at the scene of an explosion in the Mazzeh district of the Syrian capital Damascus yesterday, which is believed to have targeted the prime minister's convoy. Syrian Prime Minister Wael al-Halqi escaped an assassination bid, surviving a blast that targeted his convoy in Damascus, Syrian state television reported. Photo: AFP
Republican senators on Sunday pressed US President Barack Obama to intervene in Syria's civil war, saying America could attack Syrian air bases with missiles but should not send in ground troops, reports Reuters.
Pressure is mounting on the White House to do more to help Syrian rebels fighting against the government of President Bashar al-Assad, which the Obama administration last week said had probably used chemical arms in the conflict.
Neutralizing the government forces' air advantage over the rebels "could turn the tide of battle pretty quickly," Republican Senator Lindsey Graham told CBS's "Face the Nation."
"One way you can stop the Syrian air force from flying is to bomb the Syrian air bases with cruise missiles," the South Carolina senator said.
Graham said international action was needed to bring the conflict to a close but "You don't need boots on the ground from the US point of view."
More than 70,000 people have died in Syria's two-year-old civil war. So far, the United States has limited its involvement to providing non-lethal aid to rebels.
Meanwhile, Syrian Prime Minister Wael al-Halki survived a bomb attack on his convoy in Damascus yesterday, state media and activists said, as rebels struck in the heart of President Bashar al-Assad's capital.
The explosion shook the Mezze neighborhood shortly after 9:00am sending a plume of thick black smoke into the sky, Internet footage posted by opposition activists showed.
The Britain-based Syria Observatory for Human Rights, which has a network of sources across Syria, said one person accompanying the prime minister had been killed. State television reported casualties, but gave no details.