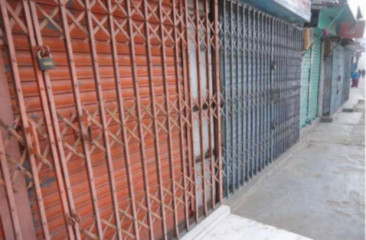 In this March 11 this year photo, shutters are seen down in Ishwardi Alhaz intersection area of Pabna district during a dawn-to-dusk hartal (shutdown) called by BNP. 
The International Monetary Fund (IMF) has said the ongoing political instability is affecting the economic activities of Bangladesh.
"Unrest in recent months is affecting economic activity, with real GDP (gross domestic product) growth now expected to moderate to below 6 percent in fiscal year 2013 (July 2012-June 2013)," said a statement of an IMF Mission published on April 2.
The mission came to Dhaka on a 14-day visit from March 20 to conduct discussions on the second review under a three-year Extended Credit Facility (ECF) arrangement and made the statement after concluding the visit.
The ECF was approved on April 11, 2012 in a total amount equivalent to Special Drawing Rights (SDRs) 639.96 million.
"To safeguard growth performance and consolidate macro-economic stability gains, the authorities reaffirmed their commitment to undertaking prudent policies and building external buffers. They will also advance critical structural reforms aimed at expanding tax revenues, improving public financial management, and ensuring a stable, well-governed financial system," the statement added.
It also appreciated the enhancement of the country's economy saying, "Despite global uncertainties, economic developments have been broadly as envisaged. Exports are picking up, remittances remain strong, reserves continue to rise, and inflation pressures have eased, supported by restrained fiscal and monetary policies."
"Quantitative targets under the ECF arrangement are broadly on track, with all performance criteria met at end-December 2012, except the ceiling on nonconcessional external debt, as reported at the time of completion of the first ECF review."
"Progress continues to be made on structural measures, highlighted by a new VAT law now firmly moving in the implementation phase," the statement added.
During its Dhaka visit, the members of the mission met with the finance minister, Bangladesh Bank governor, finance secretary, and other senior officials, and development partners.
The mission welcomed the authorities' continued commitment to the implementation of their reform program, which is being supported by the ECF.
It also wishes to thank them for the excellent cooperation and warm hospitality during the visit.
At the conclusion of the visit, David Cowen, the outgoing mission chief for Bangladesh, and Rodrigo Cubero, the incoming mission chief, made the statement.