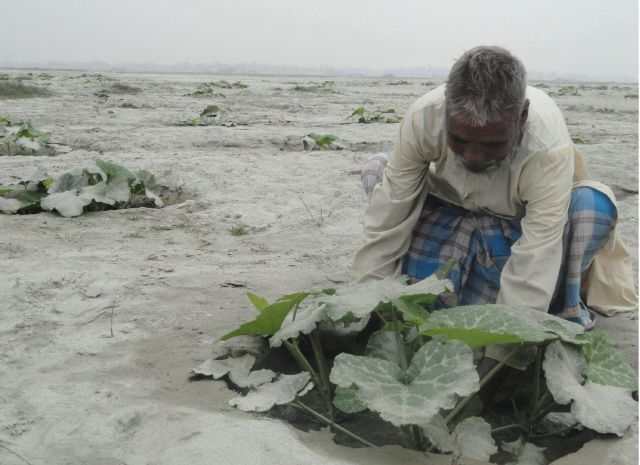 A farmer at work at his pumpkin field at Shoalmari village in Kaliganj upazila under Lalmonirhat district. Many landless people in the sandy char areas of Teesta basin in the district are now engaged in the profitable cultivation. PHOTO: STAR
A large number of landless farmers in once barren lands of char (landmass emerged from riverbed) areas in the basins of Teesta and Dharla rivers in Lalmonirhat Sadar, Aditmari, Hatibandha and Kaliganj upazilas in the district are now engaged in profitable pumpkin cultivation.
Earlier farmers in the char areas of Lalmonirhat district failed to get expected yield from cultivation of other crops and vegetables.
As soil and climate in the area were found suitable for growing pumpkin, different NGOs including RDRS and Practical Action Bangladesh started helping farmers to grow the popular vegetable by providing seeds, fertiliser and inputs since 2009, said locals.
According to the record of Lalmonirhat DAE office, about 6,000 landless farmers are engaged in pumpkin cultivation on 3,000 hectares of abandoned sandy lands in Teesta and Dharal basin areas belonging to 30 villages in four upazilas of the district this year.
"I started cultivating pumpkin on one bigha of sandy land in 2009. That year I earned Tk 18,000. This year I have cultivated pumpkin on three bighas of sandy land and hope to earn over Tk 1 lakh from it," said Tobarok Miah of Kalmati Char in Teesta basin under Lalmonirhat Sadar upazila.
"Only Tk 900 to 1200 is needed to cultivate pumpkin on one bigha (27 decimal) of sandy land. From there, one can harvest 1500 to 1700 pieces of pumpkin, each weighing two to four kg. It is sold for Tk 12 to 15 a kg," said Bodiar Rahman, a farmer at Bowalmari village in Dharla basin under the same upazila.
"Pumpkin cultivation starts early January and it is harvested from mid March to April. We cultivate pumpkin on sandy lands as NGOs provide us with seeds and compost. By taking regular care, we get good yield and high profit," said Ashraf Ali at char Gobordhon village of Aditmari upazila.
Several farmers, who earlier faced seasonal monga, a near-famine situation almost every year, said pumpkin cultivation is now helping them to live well.
"A large number of farmers in Teesta and Dharla basin areas in Lalmonirhat have been cultivating pumpkin on once abandoned sandy lands. They earn good profit as traders from different parts of the country including the capital buy pumpkin from the growers on the spot for fair prices," said Mamunur Rashid, agriculture and environment coordinator of NGO RDRS.
"Pumpkin cultivation on sandy lands in char villages of Teesta and Dharla basin areas in Lalmonirhat can play a vital role to mitigate monga in the area. Besides, wastage from pumpkin field can be used as fertiliser for cultivating other crops afterwards," said Lalmonirhat DAE Deputy Director Abdul Mazid.