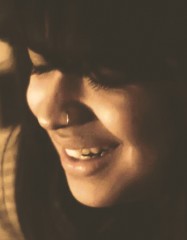 Photo: Courtesy
I finished my school and gave my O'levels and A'levels from Scholastica in Dhaka and then went to University of Nottingham for a degree in Economics, and now finally I am at Berklee College of Music pursuing a degree in Music.
School days were a lot of fun- the best part was being able to see my friends' everyday and really enjoy the basic things of childhood with them. In my school days, any spare time I had was spent outside my school life making friends with the young musicians in Dhaka. I really got to branch out of our bubble and meet and jam all the time. One of my favorite school moments has to be the time when I was performing with my band for the ever concert at our new building's STM hall alongside Cryptic Fate, Ajob and other Alumni bands. I really don't have any bad moments at school, although I was always very scared of my teachers.
My life at university is different in the way that here at music school, I get a sense of belonging. In school I had great friendships and fun but it was always despite my attempt to fit in. In music school there is no "norm" of being, we all are quirky in our own way and I guess that is the norm.
During my time at Berklee I had the opportunity to attend a workshop, converse and perform with the amazing Bobby McFerrin. Not only are his skills and musicality admirable, but more so his kind, modest, professional and honest way of life and music is infectious. He really showed me how important it is to explore different parts of your mind but always keep the real goal of being a good person. An advice that will stick out for ever for me would be, "Be kind for everyone you know is fighting a hard battle".
I come from a musical family so it was always in me, my mother especially being a full time professor and single mother of two crazy children always made time for her music everyday be it during the day or past midnight. That kind of passion was inspiring to me.
Currently I am hoping to be a performing musician and composer once I graduate. I also have a record label 'ME Label' which I am hoping to develop to spread awareness of musicians' rights and loyalties and be a part of making a sustainable financial career for all the musicians in Bangladesh, I also hope to introduce Bangla Music to other parts of the world and let our talent reach the world outside Bangladesh.
For all the young readers I would say, do what you love to do, and everything else will fall into place.