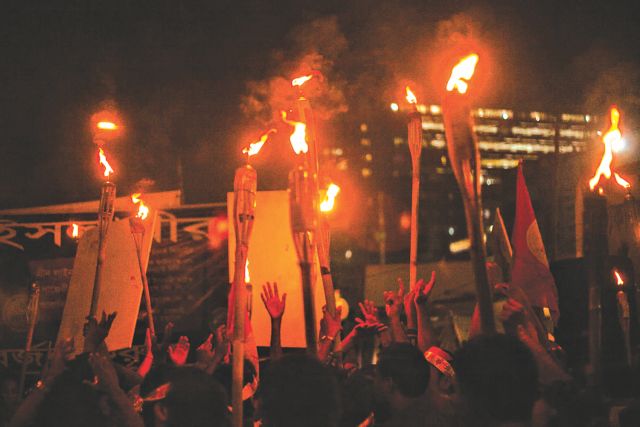 Photo: Prito Reza
It is a logic which a simple child would understand that a crime should be investigated and criminals should be punished. But the usurpers made simple logic seem impractical and unimaginable cruelty easily ignorable. Forcing a raped woman to see her rapist become an elected MP did not seem cruel to the people. When I discussed the issue with others the answer I got was, 'What can you do, it is democracy, they are elected by the people, so you must allow it.' Really?  Allowing a war criminal rapist to be involved in the politics of the very country the birth of which they opposed, is democracy? Well, if it is so then there is something very cruel in it. Can nobody feel it?
When I met her she cried. She does not have any children, never got married. But she looks at all the youth of her country as her own children and said to me in a very sad, poetic way, "Ma, I saw my sons take their mother's rapist on their shoulder and chant his name." Tears were rolling down her eyes. I wondered what hurts her more -- the events of '71, the loss of a normal life, the rise to power of a war criminal who raped her or the shameless compromise that her fellow countrymen made with their deals for petty gains. She told me it is the latter that she finds most humiliating and frustrating.
I could totally identify with her. In her tears I could see the reflection of my own life-long frustration. I am the daughter of a martyr who has seen her father's killer become a minister in this country. My father Shaheed Dr. Abdul Alim Chaudhury was an eminent ophthalmologist who was killed on the last day of our liberation war. The man who orchestrated the killing of my father is the so-called 'Maulana' Abdul Mannan. Razakar Mannan, founder of Daily Inquilab, admitted in captivity to the police and Muktijoddhas that his students, who were Al-Badars, took my father along with other Intellectuals, like Dr. Rabbi. He later became State Minister in President Zia's time and a full minister in President Ershad's cabinet.  Can anyone feel the depth of the emotional trauma it can have on a child? Is it that hard to understand how cruel, how unfair it is? In my childhood, what I found most difficult to understand is the contradictory actions of those politicians. On one side they were calling our fathers the heroes of the country, placing floral wreaths on their monuments and on the other hand, making our father's killers ministers, placing our sacred flag, a flag that is soaked in the blood of our fathers, on the cars of these criminals.
On 15th of December, 1971, members of Al-Badar picked up my father from our home and we found his dead body on the 18th, his chest riddled with bullets, a bayonet wound on his left temple. He was only 42. The loving father of two small daughters, one of whom used to sleep on that very chest that the Al-Badars riddled with bullets. That daughter is me. I do not remember him but I still miss him so much. Even after 42 years and after so many repetitions of this story, my tears are blurring my computer screen, as I write this cruel incident again for you. Still, through my tears I write, to awaken the conscience of those people who still question our demand for trial of our father's killers, to ignite the empathy of those people who in the name of politics is siding with the war criminals.
Since independence, actually as early as December 1971, the families of the victims have been asking for trial of the war criminals.  My mother, Shyamali Nasreen Chaudhury was among the group of family members comprising mainly widows of intellectuals who had lost their husbands, who went to Bangabondhu Sheikh Mujibur Rahman to demand the trial of war criminals. Later at a separate meeting, Bangbabondhu, who knew my father well and cared deeply about his death, put his hand over my mother's head and said, "Shyamali, do not be sad. I shall try the killers of Alim with my own hands." He never got the chance.  It brings tears to my eyes when I see Honourable Prime Minister Sheikh Hasina fighting both internal and external enemies all around, to try the war criminals. I keep on thinking that she is the true 'Daughter of Bangabondhu', as she is fulfilling the promise that her father was not given the chance to fulfill.
Photo: Prito Reza
It has been very tiring to justify our demand for the trial of war criminals. Endless questions, endless accusations, endless doubts we had to face and answer to. Why the trial, why now, why not before, why only from Jamaat-BNP, are we not dividing the country, are we not being used by Awami League and so on so forth. Some even had the nerve to tell us to forgive and forget and move forward, implying that we were the ones taking the country backwards. There are simple and now universally accepted answers for all the questions. So I shall not go into them today. But for me what seemed most exasperating and hurtful was the fact that the victims needed to justify their demand for a fair trial. A very true parallel to our plight was drawn by yet another member of a victim's family. She said our situation was like that of rape victims, who are often portrayed as prostitutes and have to fight just to demand justice. Look at the young boys and girls of Shahbagh. They are fighting day in day out to achieve justice for us. Yet they are bombard with endless accusations of blasphemy, bad character, called 'nastik', 'kafir', 'nosto chele'. It breaks my heart to see how these boys have to defend themselves saying they are not against religion, that they are not collaborating with either government or anybody else. How cruel we are. You may have a just cause, but the mean politicians will make you suffer for demanding your rights.
I would like to ask those who are supporters of the political parties that are opposing the trial, if you had lost your father or if your sister was raped or if you had lost an arm or a leg would you have been able to forgive?  Then why are you creating so much confusion and chaos when the country is trying to bring these criminals to justice? If you are a citizen of this country, if you survive taking sustenance from our motherland Bangladesh, if you call this land 'Ma' why are you siding with people who opposed the very emergence of this country? Had you known how much it hurts, you would not have been so politically calculative. I do not wish such pain as I feel on anybody. But I warn you, for if today you give shelter to these war criminals and they survive, some day your children or their children will be affected by these criminals the same way as I and then they will know how cruel it is. Remember these reactionary forces like Jamaat-e Islam are ruthless people who will spare no one. Not even their greatest supporter BNP. Have you forgotten the number of Chhatra Dal activists who were killed by Jamaat-Shibir? I wonder what their families are feeling today. A smoke screen is created to hide the fact that the main opposition party, BNP, has blatantly stood in support of the war criminals, only because their arch rival, Awami league, has had the foresight to take up an issue that has created such resonance with the youth. Hindrances are being created to the trial process in the name of fairness and human rights of the criminals.  What about our right to justice? In the name of being fair are you not being unfair to the victims? Let your conscience guide you. If you do find flaw in the trial process, come forward, help the trial process, co-operate and collaborate with us to make this process better. But please do not oppose the process altogether. For petty political gain please do not destroy the one and only chance we the victims have for getting justice.
On behalf of the children of martyrs, I appeal to Begum Khalada Zia, can you not give us your word that if you are elected to power you will carry on trying the war criminals and can you not promise that whoever you are doing politics with you will not let our sacred flag fly on the cars of any war criminals? Is it too much to ask from a sector commander's wife?
We dream of a country where the government party, opposition party, all other parties and all the people will carry pro-liberation ideology in their hearts and minds. There will not be anything called anti-liberation force. Therefore, is it not only logical that we should ban a party like Jamaat-e-Islam, with its history of war crimes and continued anti-liberation, anti-Bangladesh activities? Let us not make simple logic seem impractical anymore, let us all be humane enough to feel the pain of the victims of war and let us be honest enough to acknowledge our debt to the martyrs. It is now time to prove our individual commitment to our motherland, Bangladesh. It is now time to rise up and unite against the war criminals. May our conscience be our guide.
Dr. Nuzhat Choudhury, Assistant Professor, Dept. of Ophthalmology at Bangabandhu Sheikh Mujib Medical University, is the daughter of Shaheed Dr. Alim Chaudhury.