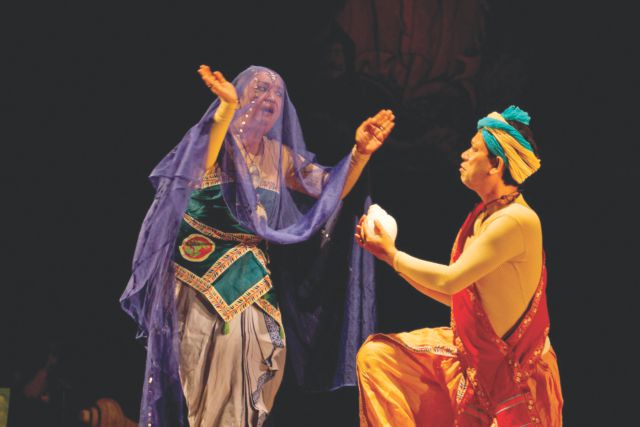 Photo Courtesy: Pictorhyme Pictures
Prachyanat's six-day theatre fest, 'Natyamela-2013', at the Bangladesh Shilpakala Academy, began on Thursday afternoon as part of the troupe's 15th anniversary celebration.
The festival was inaugurated by mothers of theatre activists. The ceremony was dedicated to the late President Mohammed Zillur Rahman; the audience remained silent for one minute, showing respect to his departed soul. Following the inauguration, CMA Orchestra performed music, while Sanjay Chakraborty came up with his
performance art.
Later in the evening, Dhaka Theatre staged its internationally acclaimed production, "The Tempest", at the National Theatre Hall. This Bangladeshi makeover of the Shakespeare play has been drawing applause from critiques and audiences since its staging at London's Globe Theatre in 2012. It is the first production by a Bangladeshi troupe that was performed at the 'World Shakespeare Festival'.
Translated by Rubayet Ahmed and directed by noted theatre personality Nasiruddin Yousuff, this adaptation of Shakespeare's masterpiece is strong in music and dance as well. The production attained much attention for employing the Manipuri Natpala form with traditional music and narrative.
The universal themes of love, power, betrayal, revenge and the limitations of humanity under restraints were vivid through the bold performance of the actors. The aesthetic value of the play lay in the oneness of dance, music, dialogue and acting.
According to Nasiruddin Yousuff, the production shows why Shakespeare's works remain vibrant and relevant even after 500 years -- irrespective of time, place, language and nationality.
Members of CMA Orchestra perform at the inauguration. Photo Courtesy: Pictorhyme Pictures
About 15 years of Prachyanat, Yousuff said, "Prachyanat strives to be innovative and artistic. The works of this youthful troupe always reflect a sense of rebellion and an urge to celebrate art through human life. Over the 15 years, it has produced some outstanding works and a good number of talented artistes."
Azad Abul Kalam, speaking about his troupe, said, "Prachyanat is now a common platform for talented youths. This celebration is not only the end of a chapter, but also marks the beginning of a new journey. We will carry on our efforts to bring something innovative and enjoyable to the audience."
In addition to plays, musical performances by different groups and performance arts will entertain the audience throughout the festival. Each day is being dedicated to a late theatre activist. On the third day of the festival (today), Prachyanat will stage its own production, Robert Bolt's "A Man for All Seasons", and Theatre Art Unit will stage "Court Martial" at 7pm.