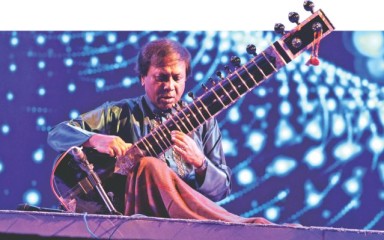 Ustad Shahid Parvez Khan performs at the Bengal ITC-SRA Classical Music Festival 2012. File Photo
"Like the body needs food, the soul needs energy. Classical music can energise the soul; that's why, it is necessary for life," said Ustad Shahid Parvez Khan, in response to the question: Why is music necessary?
Regarding preservation or protection of the art, Ustad Khan stated, "We need not protect any kind of art form. It will be preserved and protected to complement the demand and taste of people, and to stand the test of time. As a musician, it is our duty to be sincere with our music. That is why we strictly follow our tradition and try to fulfill our duty towards the audience and music."
Speaking about the significance of gharana (school) in classical music, Ustad Shahid Parvez Khan said, "Gharana is a very essential. It is known for its specialty, and not for its limitation. If we are positive towards the gharana, many musical flowers can blossom."
The Ustad performed instrumental music on sitar at last year's Bengal-ITC SRA Classical Music Festival in Dhaka. Ustad Shahid Parvez Khan, on his sitar, played a melodic game of "Bageshree", a raga pertaining to the thaat "Khamaj". Yogesh Shamsi accompanied the Ustad on tabla.
Ustad Shahid Parvez Khan was born in Mumbai, India. He was initiated into music by his father Ustad Aziz Khan, a famed musician and a noted composer. He received his vocal training from his uncle Ustad Hafeez Khan, an accomplished singer, surbahar and sitar exponent. Khan received taleem in the tabla from Ustad Munnu Khan of the Delhi gharana. He has performed in all major music festivals in India and abroad, including the US, Europe, Canada, Africa, Russia, west Asia and Australia over the years. His numerous awards include the Sangeet Natak Akadmi Award, the Padma Shri, and the M.L. Koser Award.