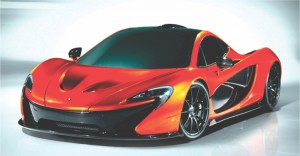 A recent concept study by McLaren Automotive, creators of the legendary F1 (NFS fans will surely remember their first time driving one, at least virtually), is supposed to be a mock-up of what an actual replacement of the F1 could look like. In short, it's gorgeous, combining ultra-modern looks with the effortless grace of the past, like a Frank Gehry creation on wheels.
The signature copper orange McLaren coloured hypercar isn't just pretty, either. Without any official information, all we can tell you now is that some sources have said that the P1 could be powered by anything from a brand new twin turbo V10 to the 3.8 litre twin turbo V8 engine from the MP4-12C, McLaren's only other production model. If they use the V8 motor, though, expect it to come with a Kinetic Energy Recovery System (KERS), for a combined power output of 903 bhp. Feel the goosebumps yet?
Unfortunately, the genius of Gordon Murray, the engineer-designer behind the original F1, is no longer involved with McLaren, so the P1 will miss his magic touch on it this time around. But have faith, if the MP4-12C's success shows anything, it's that British engineering still has a few kicks in it. Ferrari better watch it's back.