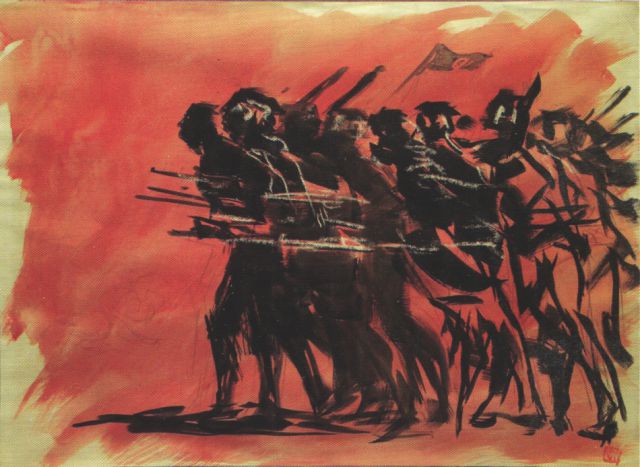 Artworks by Zainul Abedin,
As part of its 100th anniversary celebration, Bangladesh National Museum (BNM) is hosting an art exhibition on the Liberation War. The exhibition, featuring works of renowned and promising Bangladeshi artists, is now on at Nalini Kanta Bhattashali Gallery of the museum.
Liberation War is the most glorious episode in Bangladeshi history. The very existence of the nation is rooted here. Since its inception, the museum has been working to preserve and uphold the history of the country, and generate awareness in various aspects of the war.
Forty-seven works [part of the permanent collection of the museum] of Shilpacharya Zainul Abedin, Patua Quamul Hassan, Aminul Islam, Abdur Razzaque, Qayyum Chowdhury, Debdas Chakraborty, Hashem Khan, Rafiqun Nabi, Hamiduzzaman Khan, Syed Abdullah Khalid, Swapan Chowdhury, Shahabuddin Ahmed and Moniruzzaman are on display at the exhibition.
These works highlight realist, photo-realist, abstract, semi-realist, semi-figurative approaches. Mediums used are: oil, watercolour, charcoal, batik, poster colour, black and white drawing, wax tempera, aquatint, etching and sculpture [wood, bronze and cement].
The movements of Zainul Abedin's figures denote aesthetics. In his work, a group of freedom fighters are seen crossing a shallow ditch -- undaunted by the enemy.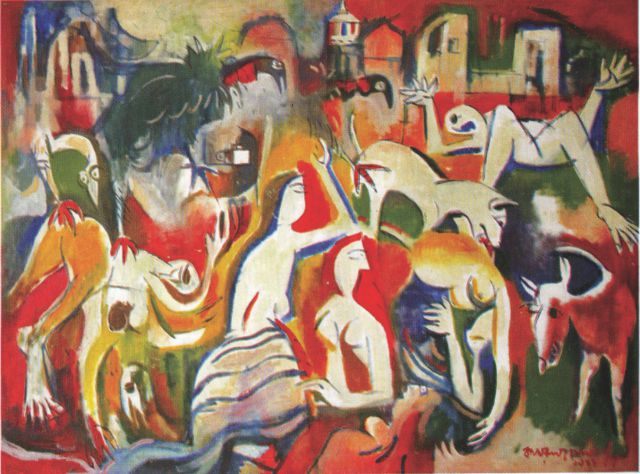 Artworks by Quamrul Hassan.
Hashem Khan is well recognised for his works on the theme of Liberation War. His compositions and colours are bold and animated. His canvas -- dominated by red, black and white -- is on display at the exhibition.
Aminul Islam prefers to go into details with his striking images, while his figures and glowing colours are thought provoking. In his painting, freedom fighters are seen celebrating victory. The toils of struggle, the drive and the euphoria of achievement pulsate throughout his paintings.
Abdur Razzaque's work reveals the triumph of a warrior. Uninhibited brush strokes make the canvas remarkable. Azure, red and bright yellow have generated a thrilling experience.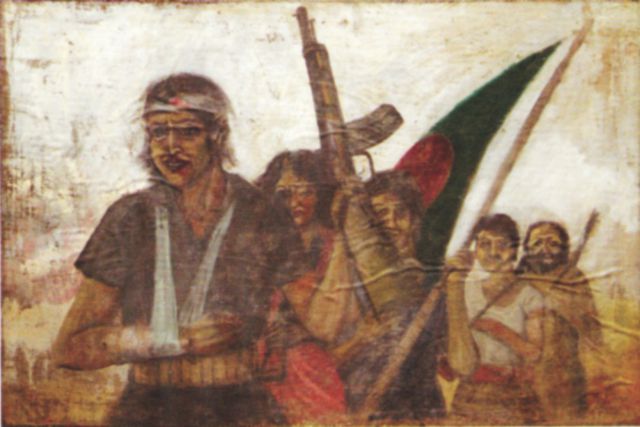 Artworks by Aminul Islam
For Swapan Chowdhury, the Liberation War is an inseparable part of identity. He still carries the painful memories. Crimson and black is predominant in his works. In recent times, he has concentrated on Buddhist traditions and cityscapes. Emboss and collages are noticeable techniques in his works. At the exhibition, one of the painter's canvases [acrylic] is adorned with birds. The birds, free in nature, are soaring high in the sky; a crimson sun blazes in the middle of the canvas.
Along with these classics are 53 works by 30 painters. Painters have worked in oil, acrylic, mixed media, print, serigraph, ceramic, iron net, fibreglass, black and white drawing, woodcut, pottery and more.
The exhibition ends on April 10.