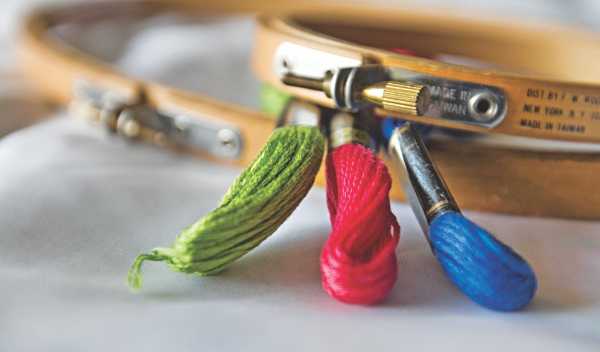 In a country so rich in culture, history and heritage, it's not a surprise that Bengali craftsmanship is something every Bangladeshi is proud of. Starting from furniture, to crockery, walls, rugs, curtains, jewellery and of course clothes, how many things in our lives can we name that haven't been influenced by some sort of traditional art form?
Perhaps one of the most intricate, time consuming and beautiful of these art forms has to be embroidery. Embroidery has been in our lives in many shapes and forms and it will always continue to be there. From the lovely little stitches done by our grandparents on their own handkerchiefs to the yokes we buy to put on our modern-day kameezes today, few can deny that embroidery of any kind adds a certain, incontestable elegance to their home or persona.

Embroidery as a hobby
I remember sitting beside my grandmother with my own needle, thread and scrap of fabric when she thought I was finally old enough to responsibly handle a needle. That scrap of fabric was an open canvas and I could make any pattern I wanted on it. I didn't really know all the elaborate techniques but I could manage to sew a flower.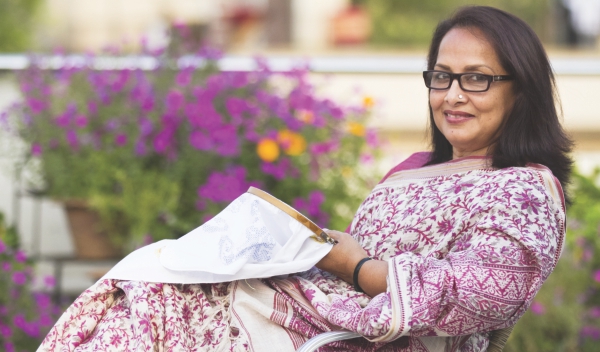 Unfortunately, the popularity of embroidery as a hobby has been rapidly decreasing over time. What with the onslaught of everything technology-based designs and our obsession with getting things done 'ASAP', the simple joy of sitting in the balcony under the sunlight and spending hours creating a design is something most of us don't appreciate anymore. What little that is left of this legacy might just disappear with our grandmothers, mothers and aunts. Making clothes for young children from the lightest cotton and then decorating those clothes with a flower here and a pattern there was once a great hobby and a wonderful gift.
But now, who will appreciate such effort when you can buy a T-shirt with a popular cartoon character on it, or hire a tailor to make the dress for you?  While drawing and other crafts are still popular today, this "wearable art" is losing its popularity as a hobby.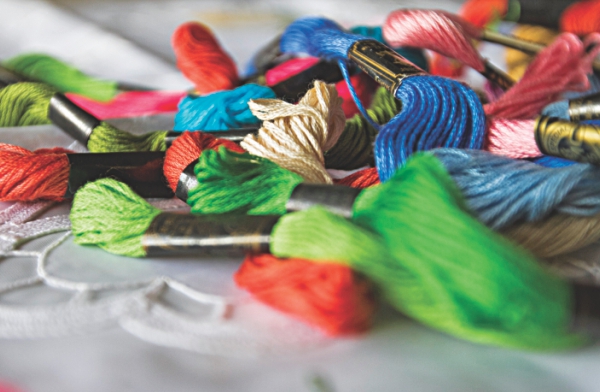 Embroidery as a livelihood
The good news is that embroidery still lives on as a form of livelihood for many women in Bangladesh. It is still the most intricate and most expensive method of designing on an item of clothing. BRAC, currently the world's largest NGO, established Aarong about 35 years ago as its handicraft-marketing social enterprise to promote rural artisans.
For example, the "nakshi kantha" style of embroidery has been widely promoted by Aarong in their saris, shalwar kameez sets, fatuas, bed-sheets, pillowcases, cushion covers, framed artworks and bags, creating jobs for thousands of women for whom this was initially a simple hobby.
Nakshi kantha literally means "decorative quilt" and the word originates from the use of old, worn out saris as blankets that are sewn together with some embroidery on them so as to add a little bit of beauty to an otherwise old piece of clothing. Now there are many handicrafts organisations set up around Bangladesh who promote traditional embroidery in their products, leading to the increase of both local and global appreciation for embroidery.
As it is an art form where attention to detail is mandatory, the value of an embroidered kameez or sari is still higher than any other type of work on fabric. It cannot be mass produced and it needs a huge time commitment. Luckily, the inherent patience of the women of Bangladesh is helping embroidery live on in our local products.
Embroidery internationally
Embroidered items are still Bangladesh's signature art form and hugely popular with our foreign visitors. Whenever a tourist wants a souvenir from Bangladesh, they look for two things: bright colours and traditional embroidery. The traditional nakshi kantha style can tell a story from the start to the finish, or depict a scene from an average day in a village with so much grace and beauty. Women cooking, men fishing on a boat, couples riding on buffalo-carts, families sitting together on the porch spending time together are all common scenes that can be found in nakshi kantha.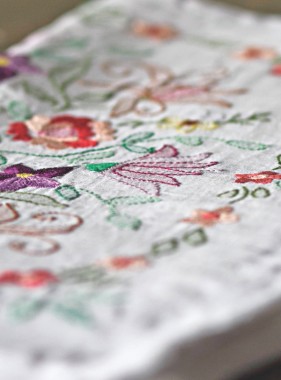 Besides this, the subtle embroidery featured in our regular clothes represents a truly Bangladeshi style that both locals and foreigners love. A few loops around the collars and sleeves, some more detail to the body, or flowers embroidered into a handbag automatically can make any piece of clothing or any accessory truly Bangladeshi.
There are many women who spend tremendous amounts of time and effort to perfect their work, help this art form live on and, most importantly, secure some food on the table. Unfortunately, they are not getting the remuneration they deserve. There are middlemen who have very high profit margins and are reaping the benefits of these women's hard work.
Many consumers are also always looking for a cheaper product and are not willing to pay the right price for such hard work. It is important for all of us to acknowledge the importance of appreciating and, more importantly, preserving embroidery so that it does not get lost to the generations to come.
Photo: Sazzad Ibne Sayed
Model: Sherifa Rashid