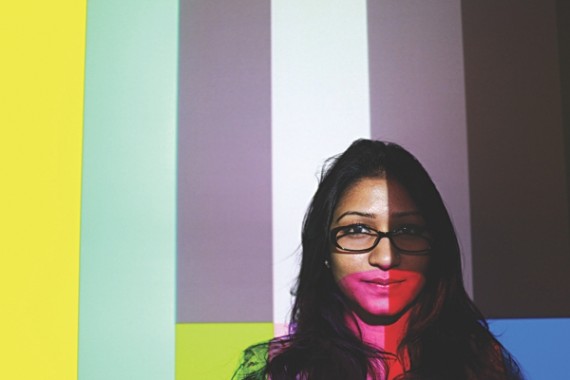 Photo: Kazi Tahsin Agaz Apurbo
In the 70's, when our parents used to go to university, life was much more about investing time in education. Working from an early age was merely an option for most. However, those who came from rural areas to the city to study, would work as home tutors to earn a decent living. However, the concept of having a professional life right after high school was almost an alien concept. Today's Bangladesh, however, is vastly different. Instead of considering work as a barrier to education, they tend to spend a substantial amount of time working during the night, while attend university or college during the morning.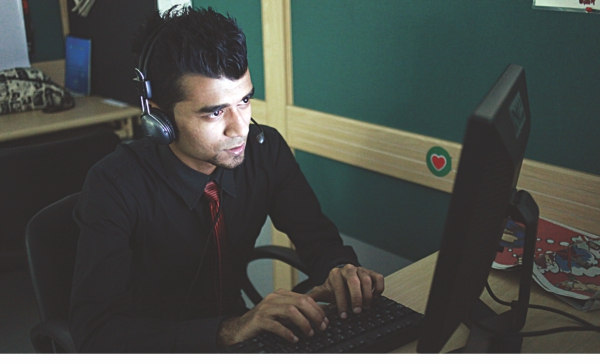 Some young professionals work at night not by choice but as a necessity. Photo: Kazi Tahsin Agaz Apurbo
For this generation, being active is more of a first base priority. Some work for passion, some as necessity while others toil away to build a career from an early age. But, then there are those who are an exception to all- the insomniacs and the all-nighters who simply enjoy the 'night life' and sleep through out the day!
They say that if you love your work and you are truly passionate about it, you are likely to find yourself immersed in it all the time. Tanbeer Alamgir, a student of Media and Mass Communication at University of Liberal Arts (ULAB) states, "I am a photographer at one of the local newspapers in Dhaka. I go to university during the day, to gain a formal education. Then I have work which have designated hours. But even after I am done working, I spend a considerable amount of time at night, editing photographs. Since, I have to spend some time on my studies after work; I do not get time to edit my pictures at work, because I have work assignments to do. But, none of this is an ordeal for me. I enjoy working. Since a lot of my photographs are conceptual, I spend a considerable amount of time, brainstorming and then capturing those pictures. If I like the output, I work on it, and that consumes a large chunk of time, because I want my work to be perfect."
While Alamgir, a young photographer, who is still pursuing his education, loves photography and considers it as his zeal, Shaila Ameer, a student of the Business Studies Department (BBA), at East West University, works late hours at night to earn a living for her family. For her, juggling two things would not be possible if she did not work late into the night. She spends her daytime, attending classes at her university, while her night is consumed by her work. Ameer says, "I work at a customer service centre at a broadband company. I used to work at a telecommunication company before. And all this is because of my family. My father used to be in politics but he has retired long ago and my mother is a home-maker. Without me and my younger sister, our family would not have been able to survive. So, sleep really is not an option for me anymore!"
Assignments at night is a must for young photographers who are trying to secure their position professionally. Photo: Kazi Tahsin Agaz Apurbo
Omar Khalil- a student of Ceramics, Faculty of Fine Arts (popularly known as Charukala), Dhaka University- was once involved with a call centre known as Computer Source Ltd. "I used to work at a call centre during my A levels," says Khalil. "We were a credit card processing call centre and placed calls to California, New York and Miami. My hours were between 8:00 pm to 5:00 am. I liked the nature of the work, it seemed interesting to me. I did this job because I did not want to get distracted with useless things my friends were doing. I wanted to earn my own pocket money, so that I would not be a burden to my parents."
For most interns seeing their patients walk out healthy at the end of the day matters the most. photo: Mohammad Ar-Rafi Waseq Hossain
There are some who are dreamers amongst us. They believe that the best way to reach the highest position in their career is by working hard. Tanzimul Habib, who now works at Asiatic MCL, an advertising agency, started working at an earlier stage of his life. "I joined the agency, just a few months before I finished university. During the World Cup campaign, we had to work late into the night to meet deadlines for one of the biggest events in our country. Starting from TVCs, billboards, RDCs, in-store branding and out-store branding, everything needed to be done. My parents did not really have a problem either, with time; they have accepted the fact that our generation is more of an active one than passive."
Editing pictures late into the night is almost a hobby for photographers, who believe in perfection. Photo Kazi Tahsin Agaz Apurbo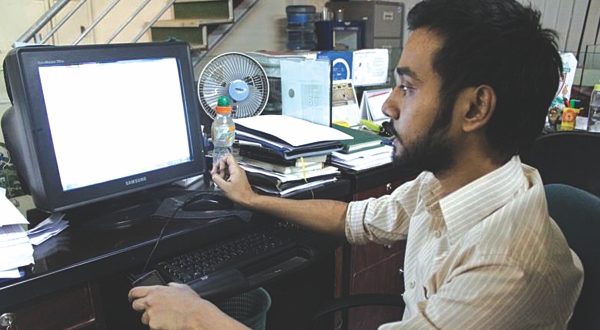 Most advertising agency executives have to work late hours to meet deadlines. photo: Sharf Ahmed Saadh
On the same note, Syed Sarah Amin, a young woman on her way to becoming a doctor elaborates, "I am an intern at Bangladesh Medical College, and I have duties at least once or twice a week, from 8:30 pm to 8:30 am in the morning. We have to follow up on the patients every half an hour and those who are in critical condition require special attention. I don't mind staying up to cure those who need me. Being a doctor makes me a responsible person and at the end of the day, it is a fruitful outcome. Watching my patients go back home in a healthy condition means that all those hours have paid off."
Similarly, just like all those above, there are those who fall into a completely different bracket altogether. Creative minds like musicians, actors and freelancers alike, are all-nighters by choice. Like a bat, they are survivors of the night, meditating on their creative souls. For them, the spirit of inspiration floats in during these so-called 'ungodly' hours.
Creative minds like musicians, actors and freelancers alike, are all-nighters by choice. Photo: Kazi Tahsin Agaz Apurbo