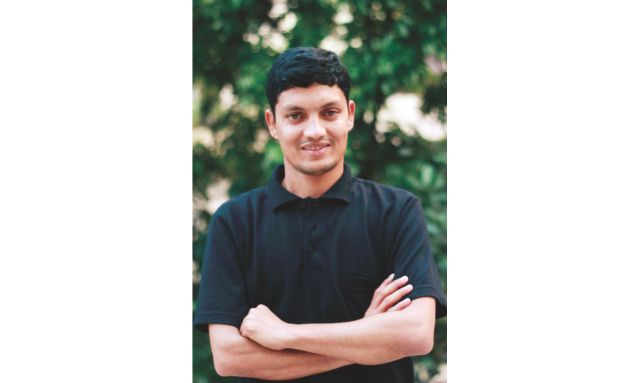 Wasim Ahmed has been working with Dhaka Theatre for over a decade. Wasim is a light designer and prefers working backstage. In a recent conversation with The Daily Star (TDS), the theatre activist talked about his work, his views on theatre and more.
How did you step into the sphere of theatre?
Wasim: In my student days I was involved in elocution and working in theatre was my dream. I like to work behind the curtains. Apart from light designing, I have also jointly directed street plays.
Walk us through the process of light designing for a play.
Wasim: At first I go through the script, then take the director's guidelines, observe sequence of movements, moods and try to connect them with reality. My job is to highlight the setting and mood of the play through lighting. Light settings clarify time and atmosphere of an action; it is an integral part of the aesthetics of a play. I have to highlight the outer settings and psychological states of characters through the use of light. I have to adjust light through shifting in accordance with time, place and action. Sometimes, I have to use special effects for the sake of situations and characters.
How does light design here compare with that in the West?
Wasim: We are doing quite well despite our limited resources. We face equipment shortage, while productions in western countries can give extra attention to minute details through use of cutting edge technology. They are also quite obsessed with the technical aspects.
What sort of limitations do you face in designing lights for theatre?
Wasim: The main problems are equipment shortage, inadequate number and unplanned design of theatre venues. Sometimes we have to make compromises due to these inadequacies.
What do you think needs to be done about these issues?
Wasim: There is no institution for technical education in theatre. As a result, no one can take a course on light/sound and other technical aspects. If the government establishes a dedicated institution for theatre and its technical sides, it will help us immensely and the standard of our theatre productions would improve by leaps and bounds. In addition, it is necessary to prioritise the technical side, along with architectural side, in the construction of new auditoriums.
What's your suggestion for newcomers who want to work on the technical side?
Wasim: Even though young theatre activists are interested in working in the technical sector, they are opting out very soon. Theatre needs specialised technicians and if newcomers do not step up, our productions will fall behind. You cannot stage a play only with the actors moving about on the stage, the crew and technicians are equally important.