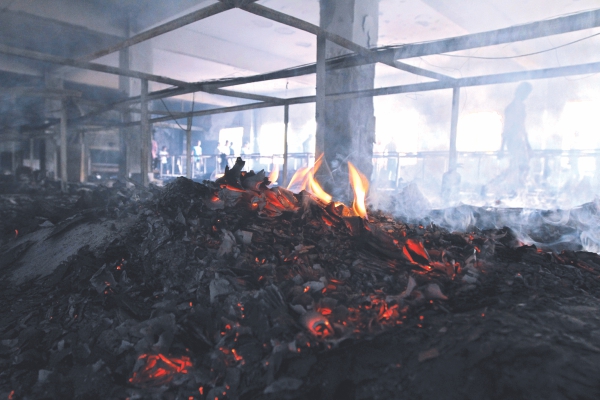 Photo: Enamul Haq
In between hysteric sobs, Rokeya Begum mumbles the same sentence over and over again. "If only I could see her once more..."
Her neighbours try to calm her down. Rokeya has already suffered two strokes since she heard that her 15-year-old daughter, Hena, was burnt alive in the fire at Tazreen Fashions. But nothing can comfort the single mother who has not even had the chance to bid a final farewell to her daughter, even after four months of her death.
Rokeya's husband had thrown her out of the house when Hena was only three months old. Now, all alone, Rokeya says, "I have nothing but my tears to live on".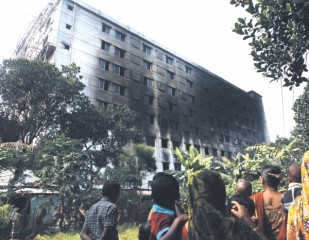 Photo: Anisur Rahman
On November 24, 2012 the worst factory fire in the country's history claimed the lives of 112 workers (according to conservative official statistics) and injured countless others. The next day, the charred corpses, that resembled charcoal rather than remnants of human bodies, were placed in white bags and placed in the field of primary school. Rokeya went through each bag, like a possessed woman, but to no avail.
Subsequent investigations and eye-witnesses accounts reveal that there were no fire exists in the factory, the staircases and exits were obstructed in most of the floors and the main door was locked from outside – all clear violations of existing laws. The nine-storey building only had permission for constructing three floors.
"They killed my child and the killers are running free," exclaims Rokeya, referring to the owner of Tazreen, Delowar Hossain, and other officials. "They weren't just content to kill my daughter, but they also want to humiliate us and make us run around for the compensation."
Rokeya is not alone in her grief and outrage. Many families of victims who were "killed" in the deadly fire still have not been able to identify the bodies of their loved ones, even after DNA profiling. Unless they can identify the bodies through DNA profiling, they will not get any compensation from the respective authorities.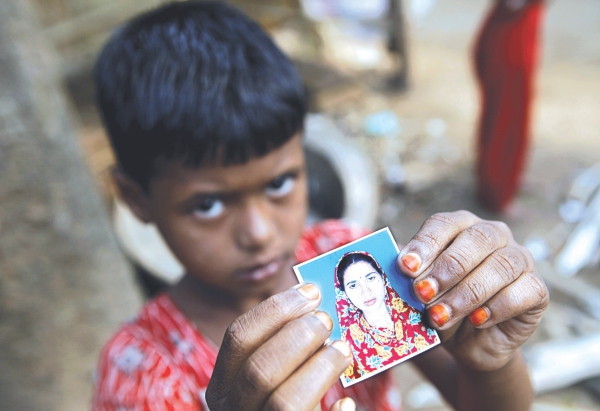 Will she ever be found? Photo: Star File
Two days after the inferno, DNA samples were collected from 59 unidentified bodies. Also 47 blood samples were taken from family members of those who went "missing" after the fire at Tazreen Fashions in Ashulia.
The rest of the bodies, though charred, were claimed by family members.  No DNA tests were conducted on those bodies.
DNA samples of 37 victims matched samples from 36 families. After the DNA report was published on February 28, another four families identified bodies through additional DNA sampling.  According to government statistics, 13 bodies still remain unidentified.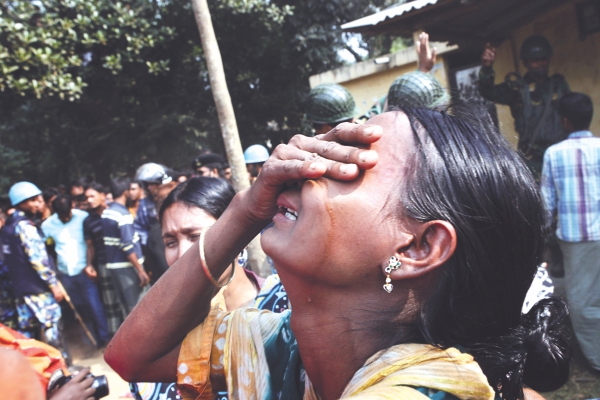 For families of the dead, not having a body to bury is another torturous ordeal. Photo: Rashed Shumon
Of them, three victims' families did not provide blood samples, state the officials in charge of overseeing the DNA identification and compensation process.
Meanwhile, investigations conducted by a group of academics and activists, called Activist-Anthropologist, which has been conducting field research from November 24, have found that at least 27 bodies are still missing.
The Star independently interviewed families of 18 victims, who claim that their loved ones are missing, while an additional two victims' names, though on the list of the Labour Ministry, did not have corresponding names of family members and hence could not be contacted.
Of the 18 allegedly missing, 14 victims' families provided blood samples, with no match; three families gave blood samples, but their names were missing from the DNA report.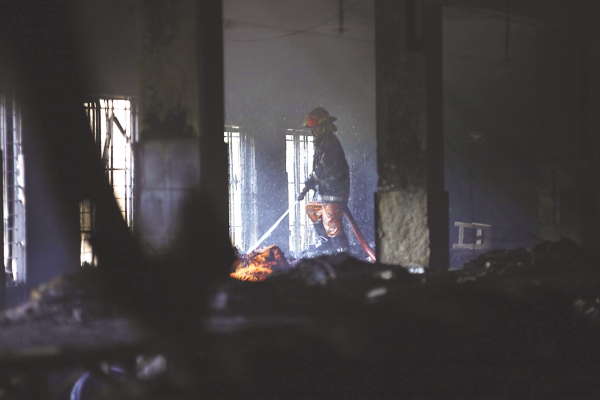 Investigations reveal that there were no fire exists in the factory,  the staircases and exits were obstructed in most of the floors and the main door was locked from outside. Photo: Rashed Shumon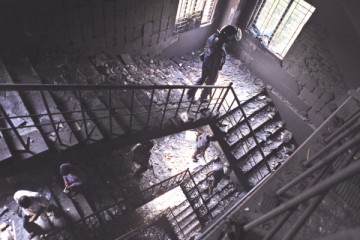 Photo: Rashed Shumon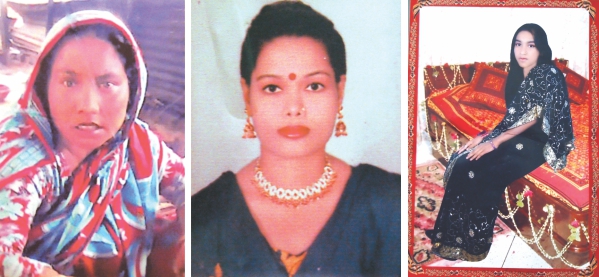 Still missing– Ahinur Begum (L), Shahana Sharmin and Hena (R).
Babul Miya lost three of his daughters – Laily, Lovely and Poppy – in the fire, as all three worked in the Sewing section at Tazreen. The DNA lab matched only one grave at Jurain with the blood sample he provided. As the grief-stricken father stares at 'Grave 34', he doesn't know which of his daughters rest underneath.
When asked about the discrepancy in numbers between official statistics and unofficial estimates, BGMEA official supervising Tazreen compensation and DNA process (preferring to remain unnamed), says that they are simply following the statistics issued by the government. "We are not denying the 18 people's claims that their family members are missing. But it should be the Labour Ministry which addresses this problem," he says.
Md Faizur Rahman, Joint. Secretary (Labour), Ministry of Labour and Employment, argues that it was not the Ministry, but rather the Fire Brigade and the Dhaka District Administration which came up with the final figure. "If families, whose blood hasn't matched, come to us now and say their bodies were not among the ones officially counted, what can we do?"
The families of "missing" workers are outraged at the authorities' sole reliance on the DNA tests.  They claim that the BGMEA or officials from the Labour Ministry have not told them how to proceed if the DNA tests don't match. "What happened to my wife? If DNA sample doesn't match with any corpse, then what happens? Do we not get any compensation?" asks Hannan. "Let the government prove that my wife wasn't killed in the fire, then!"
Mikail Shipar, secretary to the ministry of labour and employment, says that the Ministry has not reached a decision yet regarding the families who might not be able to identify bodies through DNA tests. "It's a technical matter, and we'll need more time before we can give a conclusive answer," he adds.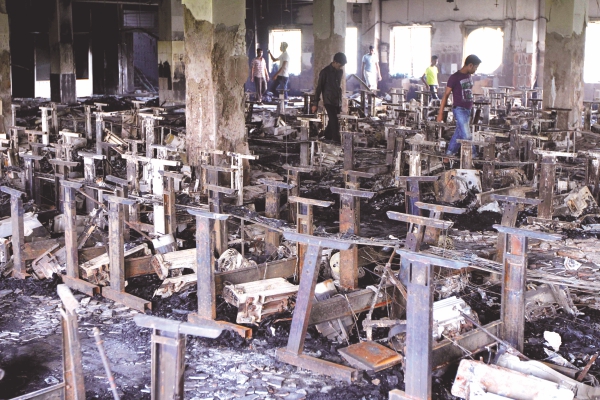 Debris of the worst fire tragedy in the country's RMG sector. Photo: Enamul Haq
Faizur Rahman informs that the families whose blood samples didn't match the victims' DNA are being asked to provide blood samples again of a different family member. "If even then some corpses remain unidentified and unclaimed, we are planning to run open ads, urging families to come forward."
Atiqul Islam, the President of BGMEA says, "We will try to solve the problem as best as we can, we will consult with the Ministry and look for directions from them. If all else fails, BGMEA will resort to the court, and do as the law states."
Labour leader and president of Garments Sromik Oikko Forum, Moshrefa Mishu says, "We want to clearly state that we don't accept these "missing" and "dead" categories. They only relieve the owners and government from their responsibility of providing sufficient compensation."
The victims' families express strong dissatisfaction over the process to identify the bodies. Not only were they inefficient, they claim, they were also downright disrespectful of their grief.
"It's because we are poor. They don't treat us like humans, but like money-hungry hyenas, or worse still, as stray dogs," says an outraged Motin who lost his sister in the fire.
According to Ruhul Hannan he went to the DNA lab a second time when the blood sample he provided didn't match to any corpse, he was told, 'Do you think it's a joke that you can come and demand another DNA test? It takes Tk 40, 000 to conduct the tests.'
The 41 families whose bodies were identified after DNA tests are yet to receive their promised amount. Photo: Star File
So far, only 58 of the 112 deceased's families have been given compensation of Tk 6 lakh each, inform officials. On December 4, the PM supposedly handed over checks to 43 families. Mishu, however, says, "Not everyone received their checks from the PM. Those who didn't go on the designated day were turned away without full payment and asked to contact later. They are still waiting."
For instance, the families of deceased Humayun Kabir and Mahmuda Begum, husband and wife, received Tk 9 lakh, instead of Tk 12 lakh. Sumaiya, came to the PM's office on December 12, but she was only given Tk 2 lakh.
The 41 families whose bodies were identified after DNA tests are yet to receive their promised amount. They argue that no one has contacted them regarding their compensation.
"Till now, those whose bodies were identified have not been officially handed over to us," says Kamal, husband of Mosammat Taslima. "We had hoped they would help us take the body that is buried in Jurain graveyard to her village, but given the reality that is a far-off dream right now."
BGMEA officials assert that the association has already transferred its specified amount to the Prime Minister's office. An official at the PM's office says they will "process the payment shortly."
Meanwhile, many former Tazreen workers claim that they have not been sufficiently compensated for their injury. More than 115 workers, according to statistics of Worker's Rights Consortium South Asia, were severely injured in the fire, many of whom jumped from top floors of the building to save themselves. Countless others sustained minor injuries, burns and psychological trauma. According to BGMEA, 89 people were given Tk one lakh each and an additional 27 lakhs were spent on medical expenses of workers.
A survivor of the five still suffers from her injuries. Photo: Anisur Rahman
However, many workers are yet to receive any compensation for their injury, say labour leaders. Some are only showing symptoms months after they sustained internal injuries. Mukta Banu, for instance, jumped from the third floor of the building. For a month now, the left side of her body has been swollen and she cannot hear anything.
Some workers argue that their injuries meant they could not be employed by other companies during the first few months. "I exhausted my savings and had to borrow from people to get some treatment," says Akash who worked at Tazreen.
"We [labour activists] held a health camp beside Tazreen on April 1 to provide free check-ups and treatment to injured workers. There were around 130 orthopaedics, neurology and psychiatry patients, only 20 of whom had received compensation from BGMEA for their injuries," says Mishu.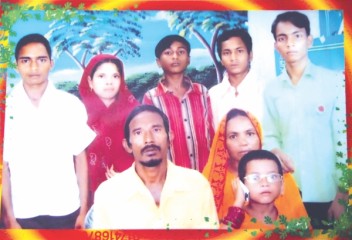 Shahida with her in-laws.
Justice: Beyond Compensation
Although delays and discrepancies in the compensation process is a cause for major concern for Tazreen victims, their foremost demand is to see the factory owner behind bars.
More than four months after the fire, and almost three months since the Home Ministry probe report into the fire recommended that Delwar Hossain be arrested for criminal negligence, no case has been filed against the owner of Tazreen Fashion.
Investigations undertaken by various rights-bodies, media houses and committees clearly show that the owner of Tazreen had violated safety regulations and labour laws. In fact, Tazreen's Fire Safety Certificate had expired in June, 2012. In addition, although it was a nine-storey building, it only had permission for constructing three storeys from Rajuk and didn't comply with necessary fire safety measures.
The building also lacked fire-protected emergency exit and traceable water reservoir for eradicating fires. Experts inspecting the site after the fire and upon interviewing Tazreen workers also found that there were highly flammable garment materials stacked around a high-voltage electric substation and electric generator. As per the building code, a multi-storey building must have fire resistant doors, easy access, unhindered passage and emergency exit.
It is also suspected that the main door of the building was locked from outside for a significant portion of the disaster. If that wasn't enough, the floor managers and linesmen didn't allow them to go out when the fire alarm went off, saying it was a 'false alarm'.
A Home Ministry committee formed to investigate the incident found that the fire was an "act of subversion." It, however, stated that the negligence of the owner could not be excused under any circumstances.
"The owner of the factory should be brought to justice, as we find that proper safety measures could have lessened the fatalities," said additional secretary Main Uddin Khandakar, in charge of the committee. "We have suggested that that the factory owner, including some linemen and the floor-in-charge should be brought to book for deaths of so many workers in the blaze."
The report was published in December, but no steps have been taken to even file a case against Delwar Hossain, much less arrest him. When the Home Minister, Muhiuddin Khan Alamgir was asked why Delwar was not being arrested, he replied, "Arrest is not the solution to any problem."
The Home Minister argues that Delwar will be punished if police investigations reveal that he was responsible for the fire.
However, the owner does not have to set fire to the factory himself; he can still be held responsible for his negligence. Supreme Court lawyer Barrister Jyotirmoy Barua says, "It is possible to take legal action against the owner of Tazreen Fashions for criminal negligence under section 304A."
"To understand the legal definition of criminal negligence, let us look at section 304A more closely, 'whoever causes the death of any person by doing any rash or negligent act not amounting to culpable homicide shall be punished with imprisonment of either description for a term which may extend to five years, or with fine, or with both'," explains Barua.
Interestingly, the police arrested the chairman and managing director of Smart Export Garment Ltd within a week of a fire that killed seven workers. "If the owners of Smart could be arrested for negligence for the death of seven workers, why will Tazreen owner be spared?" asks Communist Party president Mujahidul Islam Selim, adding that it is the BGMEA membership of Delwar that is protecting him.
"It is contrary to the rule of law that the police is not arresting the Tazreen owner," opines Selim.
The fire at Tazreen Fashions and subsequent events reveal a deeply troubling reality about the ready-made garments sector – the inconceivable amount of corruption at different levels, evident disregard for the life and safety of the workers who bring invaluable foreign currency to the country and the culture of impunity and immunity that allows factory owners to continue to defy regulations and safety standards.
The prolonged drama over the identification of charred bodies, discrepancies in the compensation process and the relentless harassment of workers and victims' families also show the classed dimension of the whole tragedy. Would authorities have dared to treat someone from a privileged background with the same disregard as shown towards Motin or Rokeya Begum?
DNA samples were taken from 59 unidentified bodies but that may not be enough to identify the corpses. Photo: Rashed Shumon
Since the independence of the country, between 700 - 1100 workers have been killed in factory fires, but the Tazreen fire was, by far, the worst factory disaster in living memory. Yet, the Bangladeshi state, its civil society, left parties and trade unions failed to use the Tazreen tragedy as a rallying point for instituting much-needed progressive change in the industry.
Four months after the fire, people's interest in Tazreen has all but faded. Meanwhile, the victims of the Tazreen tradegy continue to live in uncertainty, struggling to come to terms with the extent of workers' exploitation.