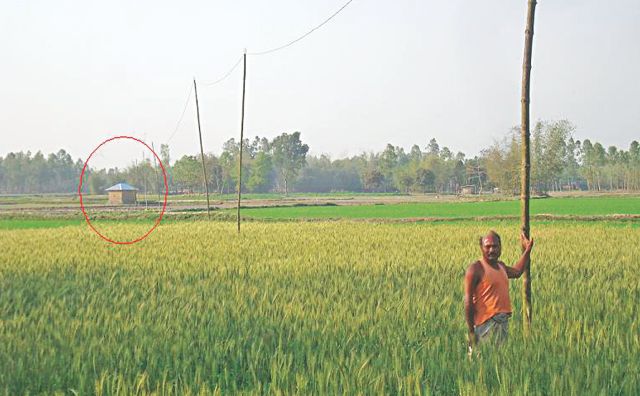 The marked tin-roofed hut in the photo is in Indian enclave and it is running an irrigation pump. But the electricity powering the pump is flowing from Bangladesh via the illegal wires held high with bamboos. Photo: Star
As farmers in Bangladesh face acute irrigation problems in the current boro season due to power outages, electricity from the country is being used in three Indian enclaves adjacent to Domar upazila of the district for irrigating farmlands for cultivation of boro rice.
This is causing a systems loss of around 35 percent in the upazila, the highest in the region, said Power Development Board sources here, seeking anonymity.
Locals alleged that a section of PDB officials in the upazila arranged illegal supply of electricity to the three enclaves -- Koat Vazini, Dahala Khagrabari and Balapara in Cooch Behar district of West Bengal -- for huge amounts of bribe.
About 80 illegal connections for supply of power to the Indian enclaves have been given from more than 30 electric poles of the PDB along the 20-km Domar-Chilahati road and 5-6 transformers in nearby villages including Mirzaganj, Jharpara, Kazirhat, Chand Khana, Botolganj and Khankapara Chilahati.
Most of the illegal power connections are for operating power pumps for irrigating boro fields in the enclaves and the rest for residential purposes, this correspondent found while visiting the area recently.
The illegal power connection holders include Nur Islam Jin having PDB Account No. B/3,786, Aminur Rahman Kibria-B/13,580, Afijuddin-B/ 10,054, Abdul Latif-13,582, Nazmul Haque-B/13,572 and Zakaria, (new) Account No. E/09,639. They get power from two transformers at Jharpara village and supply it to the enclaves through temporary power lines.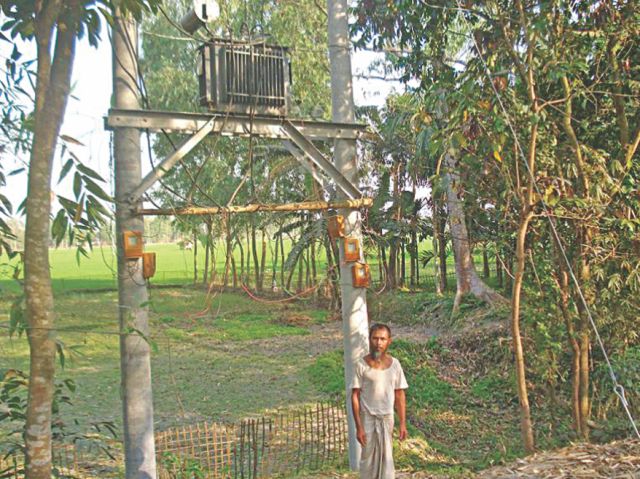 A PDB transformer in Jharpara of Domar in Nilphamari, which powers many such Indian irrigation pumps. Photo: Star
Besides, many others from Mirzaganj and other villages have taken connections for supplying power to the Indian enclaves with technical and other necessary help from a section of PDB men.
A number of power pumps operating in the enclaves can be seen even from Domar-Chilahati road.
Temporary power lines made by using bamboo poles, and connected with PDB's transmission system carry electricity to the enclaves. To hide the misdeed, most of the illegal connections are shown in the PDB registers as those for local Bangladeshis.
Locals said dishonest PDB officials initially realise Tk 30-40 thousand in bribe for each illegal connection for the enclaves.
Contacted, PDB Resident Engineer in Domar Monoronjon Roy, posted there only a month ago, admitted that he had heard of illegal power transmission to Indian enclaves and he would look into the matter.
A good number of power connections for the enclaves were allegedly given in 2012 and 2011, when Belaluddin was the RE in Domar.
Asked, Belaluddin said he had recommended power connections for Bangladeshi nationals after verifying their documents. These consumers might have used those for the enclaves after my transfer recently, he added
Farhad Alam and Monjurul Alam Monju, president and general secretary of the district unit of Biddyut Sramik League, said they have demanded departmental probe in this regard and action against the persons responsible for the misdeeds.