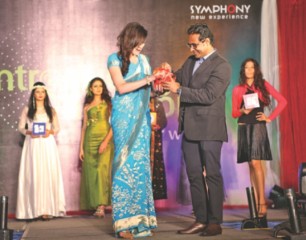 In a grand ceremony on March 30, 2013 at The Westin, Dhaka, country's leading mobile handset company Symphony has launched their Quad Core Smart phone, Xplorer W125, for the Bangladeshi market.
This new handset has faster quad core processor of 1.2 Ghz, the latest version of Android Operating System Jelly Bean 4.1 and a 4.5" inch IPS qHD display.
This handset will provide sharp pictures with its 8 MP camera, longer working ability with 2100 mAh  battery, 4 GB ROM, 1GB RAM.  It also ensures data services like 3G, EDGE, Wi-Fi, GPS and accelerometer, gyro, proximity, gravity and light sensors to give customers all the supports for games and Internet services.